Autobiography of a witch
October 30, 2012
Happy Halloween!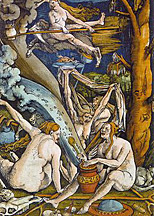 "Witches" is a woodcut, circa 1500, by Hans Baldung Grien, a German who chose not to follow in the footsteps of his family of professionals, and instead become an artist. His themes often included scenes of sorcery and death.
Witches have had a long history with Halloween. Legends tell of witches gathering twice a year when the seasons changed, on April 30 - the eve of May Day and the other was on the eve of October 31
- All Hallow's Eve.
by Jack L. Kennedy
Some people did not like Millie's grandma. Some did not even want her around. A few labeled her a witch.
But Millie and "gramma" or Nana felt drawn to each other, on the farm sipping Orange Crush and Grapette, loving the laid-back and lazy days of the old rural Tennessee countryside not far from Memphis but far from the world others considered real.
Crafting With Nana: A Young Girl's Journey Into Witchcraft by Millie Knox (New Gaia Press) is, like many promising publications, several things. It is partly rooted in an unusual autobiography. It is the basis for Millie's teachings today. She is the high priestess of her own group or coven of pagans, known in Virginia and along the east coast as the Chantry of the Silver Veil, passing her beliefs along to the next generation.
Born into a military family, Knox was exposed early to a variety of cultures as she traveled. The book appears at Halloween, and Millie reminds friends that the holiday was originally a Celtic festival.
But the book is much more than a teaching tome for growing witchcraft. It is more touching than terrifying or trivial, and does not contain merely fantasy or supernatural stories.
"Crafting" also may be read by the discerning, probing reader simply as 8-year-old Millie's adventures with her loving grandmother, a tour not just to witchcraft and anti-establishment religion but an inter-generational journey hand in hand through good and bad times, respect and affection for others and a love of nature and its place in one's lives.
As she matured physically and emotionally, Millie was eager to join gramma during a vacation each summer on the farm. Gramma introduced her to The Storm Lord, the spirits of earth and water, Aphrodite and the Lady of the Moon. The Sun Lord warmed her daily in many ways.
Millie crafted her own understanding, her own interpretation of gramma's healing and touching ways, and as a maturing little girl learned to reach out to others, to develop a sense of adventure and learn respect for the past and for elders. The world to Millie seemed like magic in many ways. The book is as much a small child's story of love and maturing as it is a future pagan coven leader's road map to being a priestess.
When a good friend dies and the little girl is disturbed, her grandma patiently explains, "Different people believe different things. I like to think we cross over to what we call the 'Summerland.' It's a place where it's always summer with fields full of flowers and trees and cool waters and streams...."
Ice cream seems to make troubles go away, when Nana and others are around to care. In Millie's expanding world, there are more simple pleasures than suspicions.
The observant reader, on a verbal journey with Millie and her beloved Nana, does not have to be a fervent pagan witch to enjoy an often charming, touching trip.
---

Title - Crafting With Nana: A Young Girl's Journey Into Witchcraft
Author: Millie Knox
Publisher: New Gaia Press (Jul. 1, 2009)
$17.95/paperback at amazon.com/pp.216
ISBN-10: 0982397135
ISBN-13: 978-0982397138