Author chronicles changing journalism scene
December 23, 2012
by Jack L. Kennedy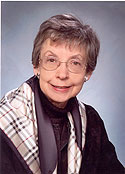 MAURINE H. BEASLEY--
Books and the people in them can be magnetic. They can attract a variety of readers for many reasons. Women of the Washington Press by Maurine H. Beasley, professor emerita, Phillip Merrill College of Journalism, is subtitled, "Politics, Prejudice and Persistence." Beasley draws upon a variety of strong, creative reporters to pull in a wide range of times, people and political patterns.
The title might seem a bit pedantic and academic, but the lively volume is more than just one determined, talented ex-journalist writing about others. It is a personalized story of change in the U.S. since World War II. It is a collection of role models for those who want to break the mold, a sampling of intriguing Washington insider stories at major moments in history and an assessment, both chilling and hopeful, of where journalism and society and judgment and gender roles appear to be going.
The book is much more than one person's assessment of media personnel bias. Beasley knows the facets of her story well, having been a strong, eager and well-known Kansas City Star education editor and Washington Post writer before becoming more associated with academia and the University of Maryland.
While she has produced several widely-used volumes on Eleanor Roosevelt, Beasley's latest book features the colorful first lady in her role as holder of press conferences for female reporters during the early days of FDR's reign and as a writer of a popular column, "My Day." This dynamic lady's place in journalism history, even her personal and, perhaps, physical relationships and penetrating personality, find their way into the book, as do stories of a wide range of pioneering female journalists, including the unforgettable Helen Thomas to today's commentators like NBC's Andrea Mitchell and souls lesser known but persistent in trying to prove to a male-dominated hierarchy that they had or have much to offer.
A prominent person analyzed at some length is Katie Couric, who was a CBS evening news anchor for a short time. One could debate, particularly from a male perspective, whether Couric's demise at the anchor desk was caused by sexism or by her replacement's superior abilities.
There is no arguing that for too long, too many women in media markets of all sizes, not just Washington, were stuck with "society" page reporting or lower-paying positions. It is ironic that for a time World War II helped elevate female journalists, but the ascendancy was thwarted by the return of enlisted male reporters.
Beasley in a scholarly but also eminently readable book of the times, the people, the politics and the pressures, will attract those readers specifically interested in women's rights. But she also has produced a volume for history buffs, journalism students, political power practitioners and observers and a variety of other potential audiences.
The book should be read by all students and educators, who like Beasley, see compelling challenges ahead in the "new media" but wonder also if some of the old verve, not to mention the professionalism, is being lost today as papers fold and ideals often seem to go with them. The broad range of topics in Beasley's book is one hallmark of an exceptional, passionate author with a story to tell, regardless of gender.
---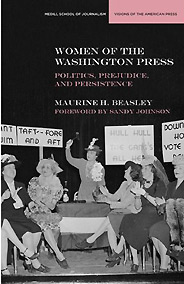 Title - Women of the Washington Press: Politics, Prejudice, and Persistence
Author: Maurine H. Beasley
Publisher: Northwestern University Press; 1 edition (August 31, 2012)
$29.95 at amazon.com/pp.448
ISBN-10: 0810125714
ISBN-13: 978-0810125711

---