Author's second book is hit with young readers
January 13, 2013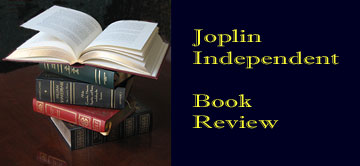 by Jack L. Kennedy
Pit big business against a small, active, creative person and you have a promising plot for a book about an alert young teen that crosses into several areas of interest.
C.J. Brown's Diamonds in the Rough, by one-time Missouri newsman Ron Nichols, likes to explore many directions. It begins with the 13-year old girl C.J.'s disruption from her comfortable home for a summer stay with an elderly aunt where her college faculty folks must leave her while they go on sabbatical. C.J. at first refers derisively to her temporary small town Arkansas home as "Sticksville," until she decides to explore the area and get to know its people. She discovers that various "ancient" relatives have much love and understanding to offer her. She also finds friends closer to her age who are eager to join her on bike excursions, in the company of dogs, or other more mind-bending events.
Like any lasting literature, readers of many age levels should identify with this volume from Martin Sisters Publishing. C.J. is an active, inquisitive soul who loves her parents but objects vehemently to their abandoning her for weeks with an unfamiliar, older relative. But, like many teens, she is also perceptive, mature and eager to try new experiences.
"Diamonds" becomes the story of a small girl with determination and tenacity battling big business including a greedy corporate geologist and mysterious elements. A battle over control of the local environment, facing new and old fears and fighting to help her family are along the trail as C.J. learns more about herself and others and winds up being something of an unlikely heroine. The plot turns explosive toward the end, at least in one sense, but the good guys refuse to cave in [not meant to be too revealing] and do find their way out of problems that are linked together in several ways after a summer of surprises.
Writing children's books can be particularly complex and tricky if the author sincerely listens to and wants to attract young readers. But Nichols, in this his second book for adolescents, is not condescending nor coddling or overbearing. He seems to understand how to attract young readers. In fact, the book may be a good read for virtually any age group.
In an e-mail interview with the JOPLIN INDEPENDENT, the University of Missouri graduate describes his background. "I worked at the Kingdom Daily News in Fulton after j-school in the early 80s for a couple of years, and then at the Beaumont (Texas) Enterprise for four years after that," he said. Currently he lives in North Carolina with his wife and daughter and where he works in marketing and public relations for the USDA Natural Resources Conservation Service.
Nichols says his first book, Where the Sky Doesn't End was "an attempt to show my then 10-year old daughter that writing could be fun because you get to decide where the story goes and what happens to the characters you create." His offspring is now in pre-med, Nichols confesses, not writing, but the experience with his daughter, he says, helped prove to himself that book writing could be a permanent thing for himself.
He thinks that telling a good story with strong, realistic characters is a necessity when writing for any age. He has been told by young readers that they can really relate to what he writes, including the characters' experiences and emotions.
"That made me feel pretty good," Nichols said. "Old, but pretty good."
---

Title - C.J. Brown's Diamonds in the Rough
Author: Ron Nichols
Publisher: Martin Sisters Publishing; (December 4, 2012)
$16.95 at amazon.com/pp.264
ISBN-10: 1937273814
ISBN-13: 978-1937273811

---