A doctor speaks out
March 17, 2013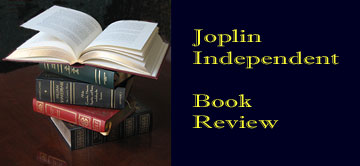 by Jack L. Kennedy--
Ty Vincent M.D., a family practitioner from Wasilla, Alaska (think Sarah Palin), was hungry to give good advice to the masses about health.
Thinking Outside the Pill Box—A Consumer's Guide to Integrative Medicine and Comprehensive Wellness (AuthorHouse) is a handy collection of the author's opinions about almost everything in medicine, from environmental poisoning to poor attempts at prevention. The author's work immediately is a revelation, intended or not, by its sheer size. It is morbidly obese. At more than 700 pages, it could slim down by about 400 pages and have a bit more spring in its own step before tackling any of America's top health hurdles. But admittedly, Vincent's volume is highly energetic, even if slightly overfed, and his collection of sermons and suggestions about a wide variety of medical topics is best taken in small doses rather than consumed in one sitting.
One might consider the doctor a "renegade" as he unpopularly asserts that mainstream medicine often focuses on symptoms rather than causes. He believes that doctors are too often controlled by pharmaceutical salespeople. He does not think that most docs today get enough medical school practice in bedside manners, diagnostic skills, and treating the whole patient. He believes drugs are over-prescribed, and doctors do not look at a patient broadly enough because they want time to push more people through the doors past the business office desk.
The word "doctor" is Greek for "teacher," Vincent notes. "It is difficult for truly arrogant people to admit to themselves that they don't know something," he says, "or that they may be doing something wrong. Many, possibly most, conventional doctors I've met are so egotistical that these (alternative medicine) possibilities don't seem to enter their head." He adds that medical education is errant or deficient, just brainwashing by the medical establishment. Too many medical practitioners, the author maintains, are willing captives of the status quo.
His rant against arrogance and poor education and other ills of the medical profession is then followed by chapters on a startlingly broad range of topics. Vincent claims that studies in medical journals often are biased. Instead he offers his own opinions on, what may seem to the layman, every known disease.
Vincent has amassed a variety of good topics as he thinks outside the box and provides tips on good nutrition, warnings about toxic materials in the environment and the need for stress prevention medicine, proper exercise and avoidance of over-consumption. He cautions everyone to be leery of the power of advertising. He offers a healthy dose of common sense at times, including reminders that Americans do not drink sufficient amounts of water, for example. Manipulating testosterone levels, radon poisoning and imbibing potentially toxic drinks are among the long list of topics that he has noted.
Vincent's education includes the University of Washington School of Medicine. He is trained in may areas including acupuncture, hormone therapy and obstetrics. He has worked in an ICU, given numerous lectures and experienced fatherhood (as a dad to six).
The pill box the author opens may not appeal to everyone's points of view, nor cure everyone's ailments, but it is a starting point for discussion. His inclusion of an index allows the reader further to study particular topics of interest.
Perhaps, Vincent's voice may seem too harsh, his field of vision too wide to be totally acceptable for many. But one mustn't rule out completely his attempt at creating a healthy diagnosis of problems in medicine today. Of course, one should not expect any single book to be a substitute for seeking other professional opinions
---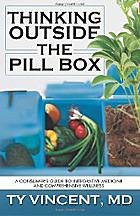 Title - Thinking Outside the Pill Box—A Consumer's Guide to Integrative Medicine and Comprehensive Wellness
Author: Ty Vincent, M.D.
Publisher: AuthorHouse (Aug. 15, 2012)
$31.86/hard cover; $30.99/paperback; $3.47/Kindle at amazon.com/pp.848; 1551 KB
ASIN: B00963J0T4
ISBN-10: 1477255141
ISBN-13: 978-1477255148

---