Taut tale of terror is a must read
April 12, 2013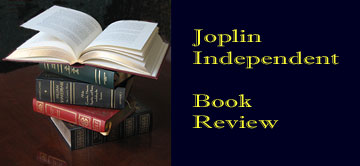 by Jack L. Kennedy
A Touch of Nerves (D. C. Hampton) has more twists and turns than a rutty Ozark roadway.
It is a well written tale of how nerve gas disappears from an army research facility in Tupelo, Alabama. Various U.S. agents, Iranian government figures and assorted suspects and shadow creatures fight amongst themselves for peace, power and recognition, while the reader experiences a shopping mall, a major Washington train station and successive souls under attack. Just as the amateur sleuth thinks he or she has the plot and bad guys all figured out, a surprise shakes faith in perception.
"Nerves" is one of the most compelling exposés of power and development of characters this reviewer has written about in many years. It is the experienced author's first work of fiction but should not be his last.
Hampton is no amateur or first-timer for many reasons, as he honed his literary skills in various ways. He holds graduate degrees in audiology from Columbia University and has written extensively for medical and trade publications for more than 25 years.
Both of this Connecticut author's sons served in the U.S. military during the Iraq war. They obviously helped him develop important aspects of his tale--assistance in evolving physical settings as well as psychological milieu--as it moves to Washington, Iraq, Spain and other often unanticipated locales.
A central figure is Captain Ben Hawkins of the Army's Criminal Investigation Division (CID). He often must combat his own inner feelings involving government bureaucrats as well as the suspected spies and bad guys.
The taut tale of terror including weapons of mass destruction, possible chemical warfare, deception and struggle on several scales is difficult to put down. And it would be a criminal offense if any reviewer sullied the suspense by providing too much information for the eager reader.
This moving, multi-generational work draws much of its instant appeal from its action, good characterization, appropriately placed and not overwritten dialog and ability to make the reader wonder what will happen next—or if what was just described really happened.
Reviewers should only give the reader clues for what to expect. You'll have to uncover the final mystery for yourself.
---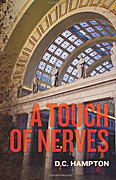 Title - A Touch of Nerves
Author: D.C. Hanmpton
Publisher: CreateSpace Independent Publishing Platform (Dec. 5, 2012)/Westchester Publishing (Dec. 18, 2012)
$11.69/paperback; $4.99/Kindle at amazon.com/pp.248; 482 KB
ASIN: B00AQ8HZIG
ISBN-10: 1470048086
ISBN-13: 978-1470048082

---