Recipe for matrimonial magic
April 26, 2013
by Jack L. Kennedy
Writing can be like cooking.
At times, all the ingredients for a tasty meal are there. Mixed together by a knowledgeable hand, they do make a satisfying souffle.
On the other hand, occasionally the best ingredients and intentions fall flat. That may be the case in Matrimonial Magic and Mayonnaise by C. B. Murray (AuthorHouse)
The ingredients for a nourishing, witty tale about an upcoming marriage with relatives collecting themselves, an elopement by a bridesmaid and an unexpected funeral often take the reader to a charming spot, offering nostalgia, human interest and other enticements that include, perhaps, poisoned wedding cake, to advice and adventure, as a couple begins its journey together.
There are unique touches, including recipes between chapters for items such as beetroot chocolate cake, Snickerdoodles for Senators and easy biscuits, which one would guess always rise to the occasion (contrary to most Senators). The mix of cookbook and marital tale, indeed, is an unusual approach.
At times the book is a touching story of young love, an exposé of family behavior and the introduction of lively and varied personalities, shared secrets, scrutiny and success. It is often a family story we all have experienced to some degree. It purports to be an unpretentious account of ancestral legacies culinary and personal, hopes, mutual support, pride and a sense of place.
One wonders if the ambitious author took a short story and decided to attempt to market it as a book. However, digesting what was written may be, after all, a matter of one's own taste.
---
So, you've never heard of beetroot chocolate cake?
---
About the author
Clella Bay Murray is not a novice. She has written six fictional volumes. She also has had work appear in newspapers, spent much time studying science, and has done research at the href="http://www.ornl.gov/" target="_blank">Oak Ridge National Laboratory in Tennessee.
It is laudable that 50 percent of the proceeds from this book, should there be any, will go to the Alzheimer's Foundation of America.
---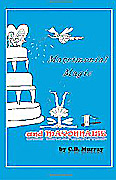 Title - Matrimonial Magic and Mayonnaise
Author: Clella Bay Murray
Publisher: AuthorHouse (Nov. 29, 2012)
$14.95/paperback; $3.99/Kindle at amazon.com/pp.110; 246 KB
ASIN: B00AGEBDJ2
ISBN-10:1477265309
ISBN-13: 978--1477265307

---