Novel of intrigue is great summer read
May 24, 2013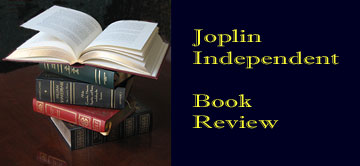 by Jack L. Kennedy
Politics, power, intrigue, pressures past and present often make good reading, when expressed by a good author. That certainly is the case in the intellectually and physically well-travelled hands of Len Camarda through The Seventh Treasure (Author House).
The plot and action are well-crafted, particularly for a first novel. The intriguing, involved and intensive volume gets off to a fast start, when lead character and Secret Service agent Gene Cerone has the comfort and security of his Washington, D.C. office shaken by the news that his sister Gina on a photographic and study mission in Spain has been killed in what first appears to be an accident.
Brother Gene in his grief does not accept the accident story, and heads to Spain to get some answers as he mourns. Aiding the Spanish inquiry is risky as it stretches across many cultural and generational lines bounded by some jealousy between agencies and countries before trust grows. A 500-year-old crime family with much ego and money is at the core.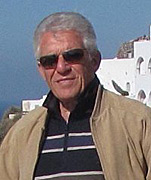 LEN CAMARDA
For more about the author go here.

The reviewer is struck by how Camarda crafts carefully and through perceptive eyes the culture, setting, and history of Spain. These become powerful "characters" in the story, as important and often puzzling as Spanish politicians, Americans abroad, international terrorists and various other humans are that add to the plot.
The setting adds to the suspense and helps propel the book without overwriting. There are moments when "Treasure" reads like a compelling cop show or reality-based drama, a tale torn from the headlines.
Cerone's work is an excellent example of how the mind of the reader can add so much to the printed page, making it a temptingly tasty morsel one cannot find in allegedly real electronic media. There is a temptation to tell more about the plot, its people and problem resolution. But to reveal too much would be to rob the reader of the joy of discovering, of weighing and reexamining, which only print can bring.
Camarda was in international business for 40 years. His work before he settled down in South Carolina took him to Panama, the Netherlands, and Spain. His familiarity with Spain and his love for her people and heritage are obvious, a major strong point for the success of this author's first novel.
"Treasure" is a theatre of the mind. Turn off TV. Read this good book. Follow agent Cerone's twisted tale.
---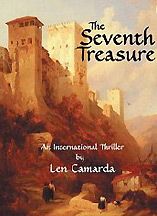 Title - The Seventh Treasure
Author:Len Camarda
Publisher: AuthorHouse (Jan. 2, 2013)/
$23.95/paperback/440 pp.; $8.99/Kindle at amazon.com/ 791 KB
ASIN: B00AYDHACE
ISBN-10: 1477290044
ISBN-13: 978-1477290040

---