Celebrate with everyday folk
January 31, 2014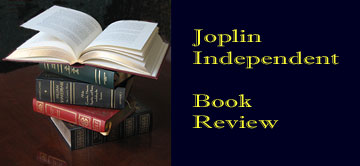 by Jack L. Kennedy
Colorful, memorable characters and Lamar author Ben Reed all show strengths from which readers can benefit in Truth with Stretch Marks.
The Missouri Southern State University Foundation also benefits, from the proceeds of the book purchases which will be used to help fund scholarships in memory of Reedís youngest son Brad. A MSSU graduate, Brad long urged his dad to write about the diverse folk he knew. After Brad died of cancer in 2010 at age 36, the grandchildren gradually convinced Grandpa Ben to make characters from cops to cooks come alive, as his son had hoped.
The strength of the trim, witty volume is in its characters and in Reedís unassuming, natural ability to recall and define everyday folk around him, like the politicos at a chilli feed or the scary folk at a driverís license office. As life moves on, the neighbors populating the book help make the author who he isó-and who his son became.
Lamar is famed for being the home of former county judge turned president Harry Truman, and also of the Lamar Democrat, one of the nationís best-known small town newspapers. But now the revealing, often rough-cut characters in Reedís book have their own stories to tell and pass along, remember and revere. Readers may recall and celebrate similar souls.
Reed finds humor and hope among Aunt Maryís family that assemble for her funeral. He takes readers along on a turkey hunt. He revives thoughts of his own father on his birthday and at Christmastime. A favorite horse named Lucky gets his hooves in also.
The mostly rural characters could live anywhere, particularly in hearts and minds, as they learn to laugh and to deal with pain. Whether Reed realized it or not as he wrote, the act of writing the book and reading it is also catharsis, a coping and celebration of life, as light moments often illuminate the dark.
In December, Reed presented a check to the MSSU Foundation bringing the total in the Brad Reed Endowed Scholarship Fund to close to $20,000. About $7,000 of that amount represents profits from book sales, Reed said. A portion is from a fundraiser Bradís baseball buddies held. The ultimate goal is to raise at least $25,000. Last fall the first scholarship was awarded to a non-traditional student, a graduate of Lamar High School, someone who had left school but decided to return to learn.
Just as the author gathered the strength to write the book in his youngest sonís memory, the reader will gain strength from Reedís friends and neighborsí tales and trials.
Copies of the book priced at $10 are available at the Lamar Democrat, Tractorís BBQ, the Barton County Chamber of Commerce and S&H Farm Supply in Lockwood. Donations to the endowment can also be made online here.