Learn a homicide detective's hidden relationships
July 26, 2014
by Jack L. Kennedy
Life has many plot twists.
Hidden Relationships of The Homicide Detective by Herman L. Hinton (XLibris) is not a typical detective story, although it is written as if it were a reality story, by a real-life former law enforcement officer. Hinton is a retired deputy chief of police for investigations who oversaw the detective staff in Birmingham, Alabama for three decades. He supervised the homicide, sex crime and domestic violence units and has seen a rise in dysfunctional families everywhere. The author wrote an earlier self-searching book on coping with life, after he was seriously wounded on duty.
But the new "Relationships" volume is neither a conventional cops 'n robbers tale nor a preachy sermon on life. It is an at times unconventional, often crisply written, fast moving character-driven story starring not the old Birmingham cop as hero, or his alter ego as role model, but a police officerís caring, curious and concerned son. The reader should be drawn in to the book without much difficulty rather early, by the promise of detective work, development of strong, diverse characters, multiple clues and questions to be answered.
To divulge too much of the premise too early would be a criminal offense, punishable by death or literary starvation by page 10. But the clues are tantalizing, the movement rewarding.
A police officer is hit by a drunk driver. His teenage son finds a list of cell phone numbers in a phone under the front seat of his dadís car. This son named Trey, shaken by the accident and concerned about his mother and the dismal relationship his mother and father had, wonders if the secret cell phone numbers are from possible affairs the longtime lawman might have had and which the young man or his mother knew nothing about.
---
Definition of "dysfunctional family": A dysfunctional family is a family in which conflict, misbehavior and even abuse on the part of individual members of the family occur continually, leading other members to accommodate such actions. Children sometimes grow up in such families with the understanding that such an arrangement is normal.....(Credit: Lucia Merino, Licensed Clinical Social Worker at Kaiser Permanente -Santa Clara Medical Center)
---
As the adept melding of family life, fatherís hospitalization, human interest, character development and detective story gradually unfold, Trey and a new-found friend who is handicapped (in body but not in mind), learn who those names in dadís hidden cellphone really are.
Along the way as Detective Wilcox lies near death in the hospital, his son Trey finds clues on how to understand people, persistence, versatility, trust, and faith. Each person behind a telephone number in dadís cellphone contributes something towards who his parents really are and the theme of the book that family and lifelong relationships are of significant importance for survival.
As the mystery unfolds, the significance of the relationship between Trey and his new-found female friend--who also is hurt in many ways--is not totally clear until the final clues, the final pages.
There are unfortunate times when it appears the cop turned author used no editor, proofreader or grammarian. But such occasional missteps fail to halt any good detective or casual reader from bringing the case to a conclusion. The merger of detective story and life story is perhaps a genre all by itself.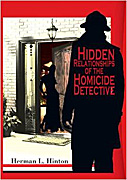 Title: Hidden Relationships of the Homicide Detective
Author:Herman L. Hinton
Paperback: 344 pages, $13.49 at amazon.com; Kindle: 908 KB, $3.99
Publisher: Xlibris (December 12, 2013)
ISBN-10: 149311204X
ISBN-13: 978-1493112043
ASIN: B00HF9BRXI