Tale of passion and greed is set in New Hampshire
December 20, 2014
by Jack L. Kennedy
Sometimes, the most compelling characters in a book are not human. That is the case in "Hants" by Arthur James (Blackstone). The title refers to a three-generation farm that spans the dramatic action.
It is subtitled "An intriguing tale of passion and greed," and while romance/tension are often evident in the triangle love affair of Angeline Sylvester with her fiance lawyer and boss at work, the real memorable elements for many may be the land, the times, the dedication of a family, and how they moved through history. The novel is tied to a clan's devotion to the land in New England from 1917 on, through changes in the economy, ecology, emotions and two world wars. The old home place was always constant, as things often moved too rapidly around it.
James describes himself as a finance professional and part-time writer, who has traveled to several countries and learned a bit about other languages, while absorbing Victor Hugo and other writers. He started writing at about age 20. Since then, he has written a novel for children, and seems to have diverse experiences and tastes to contribute to his authoring avocation.
There are times when shaky grammar and lack of elementary proofreading put stones in the path of a smooth story, but such mechanical oversights need not deter for long the lover of atmosphere, and the past's contribution to the present. The descriptive, simple style and the author's eye make the setting and the feeling it creates important parts of the tale. Yes, there is multi-generational passion and romance, hints of labor troubles, problems with transition from two world wars to civilian, allegedly civilized scenes. Tears, tragedy and tension abound.
A half-century of both happiness and hate, history and hesitancy, fill the pages as time and people move on. New Hampshire and the river of life flow on....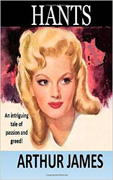 Title: Hants
Author: Arthur JamesPaperback ($8.54): 276 pages/ Kindle edition ($2.99): File Size: 599 KB
Publisher: Blackstone Books LLC; 1st edition (July 12, 2014)
Language: English
ISBN-10: 0990448800
ISBN-13: 978-0990448808
ASIN: B00LS6M0YE