Enjoying a good blow to the skull
January 09, 2015
by Jack L. Kennedy
Motivation is a powerful force, and propels colorful characters to do often questionable things under pressure.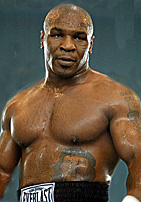 That is certainly the case with Mike Tyson, pictured at right, former heavyweight boxing champion and centerpiece of Taming the Beast, a book by his one-time handler Rory Holloway as told through ghost writer Eric Wilson. (Rough House). In Tyson's case, the reader can debate whether his principal motivator is money, sex, ego, or skill in combat, in the ring and out.
From the compelling, enticing opening pages, this battler from Brooklyn is described as a much-misunderstood guy, at times in trouble with authorities, incarcerated at one point for three years, whose marriages or affairs seemed as much of a battle as his multi-million dollar events in the boxing ring. He was, simply and knowingly, not a nice, warm guy, and Holloway and others seem to make excuses for his bad boy behavior oft-repeated. There also are allegations that he faced racism as an Afriican American fighter, and certainly signs of sexism as Tyson liked to mix sex and money to his advantage. Many of the women, the authors allege, liked the spotlight and connections it brought.
---
"When I fight someone, I want to break his will. I want to take his manhood. I want to rip out his heart and show it to him."--Mike Tyson
---
From his early days in the ring at age 20 until his dimming star fell to earth over a span from about 2000 to 2010, the self-absorbed showman bit off part of Evander Holyfield's ear, learned some humanity and boxing skill from famed fatherly manager Cus D'Amato, and gained gangster energies from somewhat less revered manager and mob figure Don King.
The man who once made millions per fight declared bankruptcy in later years, as his life seemed not to know whether it wanted to forget the past or use fame and misadventure to profit from the present. Jake Tapper, then a newspaperman and now a CNN TV news personality, says in the book that "these tales of poor Tyson and the mean streets were legendary, but it is often overlooked that Tyson lived like a prince from age 13 on" as others benefited from his emerging aura and gigantic fight purse."
Reading the book can be a fight in itself. The shadowy author repeats allegedly verbatim partial interviews with no attempt to correct elementary grammar errors. Tyson's frequent activities in bed and elsewhere with women do not get much literary attention either...the "F" word (four letter words) seem to be the only language Holloway and Wilson have at their disposal.
Those who are dedicated fight fans and are not too concerned about the veracity of a story or the manner in which it is presented may enjoy going a few rounds with Taming the Beast..but others may not find it a knockout.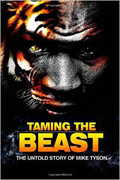 Title: Taming of the Beast
Author: Roy Holloway with Eric Wilson
Paperback: 320 pages/$14.36 at Amazon.com
Publisher: CreateSpace Independent Publishing Platform; 1st edition (October 30, 2014)
Language: English
ISBN-10: 1503025705
ISBN-13: 978-1503025707