Not yet Custer's Last Stand...
February 06, 2015
by Jack L. Kennedy
Literary treasures worth digging into are often hard to find.
Custer's Gold by M. John Lubetkin (Bookstand Publishing/2014) is an exceptional excursion down many roads. The journey could be one of the most enjoyable ones the reader has taken in some time.
In its carefully-crafted phrasing, subtlety of description, and depth and grasp of the value of research, "Gold" sets a standard ignored by many writers. Whether describing a poor frontier soul as "a Darwinian subspecies" or reminding the reader that "the gods frown on those who smile too frequently," the author demonstrates his love for the power of the pen. The references to romance and sexual tension In the Old West also are expertly crafted and are enticing, with shading rather than overdrawn word pictures.
"You ask me if I will not be glad when the last battle is fought, so far as the country is concerned I, of course, must wish for peace, and will be glad when the war is ended, but if I answer for myself alone, I must say that I shall regret to see the war end."--General George Armstrong Custer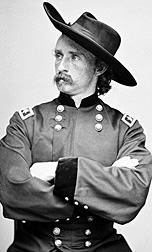 It is the 1860s in Virginia City, Montana. A bank is relieved of its resources by bandits, who bury the loot. By the 1870s, it has not been recovered. George Armstrong Custer, pictured at right, the extremely self-confident general who lived as if the Civil War were ongoing, was hired by expanding railroads to protect railroad engineers, surveyors and other employees as they fought the frontier weather, separation, distrustful Indians, greed, moguls like Jay Gould—and themselves.
The story unfolds as the character Ned Jordan, a tenderfoot engineer, writes about his life. Lubetkin was also a graduate of Union College (founded in 1868 in Schenectady, New York) like the real Edward Jordan, one of Union's first students. The author found Jordan's name in an old college yearbook and decided he was the perfect person to narrate his tale.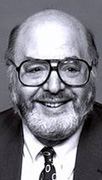 When Lubetkin, pictured at left, began his research in the 1990s (yes, it was thorough), he found out that little had been written about the gold chase as the Northern Pacific Railroad moved west. What he did find was significance in the railroad's role in creation of Yellowstone Park, immigration, the Great Sioux War and other edges of history.
Union College today has a continuing reputation for honing good writers—like Lubetkin, a former cable TV executive. He noted in an electronic interview that Union was the first US college to open after the Civil War.
Lubetkin's newest book is a work of historical fiction. It should be noted, its substantial appendix shows how real research bonds with fiction to move the story forward. It also showcases the power of the carefully-chosen word. In this case, Lubetkin's words speak loudly, clearly, often lustily. Read, Savor them.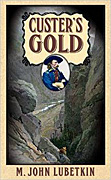 Title: Cuter's Gold
Author: M. John Lubetkin
Publisher: Bookstand Publishing (September 10, 2014
Hardcover/paperback/Kindle
Language:English
ISBN-10: 1618639269
ISBN-13: 978-1618639264