Education is a lifetime process
June 20, 2015
by Jack L. Kennedy
Many elements make good teachers, and learners – and the lifetime process never stops.
That is the most evident, memorable message in A Teacher's Tale by Joe Gilliland (True Directions.)
Defining instructors and students in a broad sense, Gilliland appeals to both academic and informal audiences, but his book--an obese 611+ pages--can be a nourishing and healthy look in minute detail at how a youngster discovers and nurtures his love of learning, kindles his thirst for ideas in both the sciences and literature, makes classroom contacts and assembles life experiences.
You may not have heard of Gilliland. He is not a former U.S. education commissioner, famed college president or dean. He wants to modestly be considered a Texas lad who was eager to try different routes, test different approaches on his way to teaching at 4-year institutions and community colleges here and abroad. The resulting memoir shows his apparent photographic memory for conversations he had in the first grade or while a missionary teacher in Japan or serviceman in Korea.
While at times massive self-assurance seems to replace focus, cogency and pointed power as the many pages unfold, the book nonetheless has a certain charm and value to readers who are educators, students, parents, or simply those who like to absorb ideas from others. Although autobiographical, A Teacher's Tale also transfers to anyone who realizes that we are all perpetual "students" in either the formal or informal sense. The book also provides some direction and solace to graduate students wondering, like Gilliland, whether they should pick medicine or music or communications for a career—or may want to teach, passing their philosophies of life along to others. Gilliland says that his "philosophy of higher education is based on the importance of the arts and humanities in today's high tech world."
---
"It is the mark of an educated mind to be able to entertain a thought without accepting it."
---
There are specific examples of great teachers at places overseas, junior colleges or giant campuses like the University of Texas at Austin. But many of the most memorable examples of good teaching, true learning and growth come from army buddies, fraternity brothers and instructors whose fame lies in their students' memories, not in the instructors'rungs on the ladder toward tenure.
What are the qualities of a good teacher, in a giant classroom? Tolerance, adaptability, eagerness to change, and passion for ideas as an active lifestyle develops are a few clues Gilliland offers through personal example, not just classroom theory or nostalgia. If teachers by any definition want to pass their thoughts to others, the author suggests, he or she must truly care about and interact with students....not just see them as gradebook insertions.
The Gilliland memoir begins in 1932 with his first experiences in schooling and ends in 1955 as he prepares to launch his career as an instructor in a small college in Texas. Along the way he wrestles with the importance of science and great literature. At one point, as he presses an instructor for an opinion, he is told to make up his own mind, not just absorb someone else's thoughts as his own. Readers should agree that this is good advice.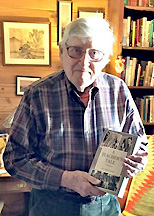 Gilliland, pictured at left, earned a bachelor's degree in psychology and a master's degree in English from the University of Texas and PhD from Arizona State University. He has taught for more than 50 years. He is a faculty ermeriti from Cochise Community College with several campuses in Arizona where Gilliland and his wife Bettie live and have two grown children.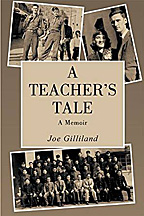 Title: A Teacher's Tale
Author: Joe Gilliland
Publisher: True Directions (March 5, 2015)
Paperback/624-pages/$33.95 at Amazon
ISBN-10: 1491745835
ISBN-13: 978-1491745830
Kindle/2315KB/$6.99
ASIN: B00UO9MKN2
Text to speech/Word Wise enabled