The Lucile James story
August 06, 2015
by Jack L. Kennedy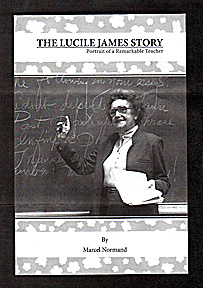 Determination, dedication to others and lack of prejudice in any sense are good qualities for anyone. Their development help make The Lucile James Story a broad, universal tale and not just the biography of a long-time Fort Scott, Kansas teacher by a colleague named Marcel Normand.
Normand shows simply and directly through testimonials and recollections by admirers that Ms. James in her teaching transfered basic tenets with joy, not ego and that this method of teaching should be the standard or framework for anyone who wants to develop communication and personal relations skills--to "teach" at any level be it in the classroom or as a parent or mentor.
Throughout her life, Ms. James, as depicted by the author, had specific expectations for and faith in her high school and community college students--a fervor often driven by her love of great literature. She used her knowledge to convey very personal, individually designed messages often through allegory and humor.
An important part of the Lucille James story is the role she assumed --acting as a "clog in the wheel"--turning the Kansas two-year college movement from a ragged collection of sophomoric centers at the back door of high schools into respected, accredited academic institutions that would stand on their own physical and intellectual legs.
The Pleasanton, Kansas native began her career as a high school teacher. Her students often achieved more because she loved the literature she taught. In a dramatic fashion she made the writings of John Steinbeck, Mark Twain and others come alive. She made their broad messages inspiring, not simply dry passages from which only motivated students benefitted. And she brought these methods of teaching with her as she became an instructor at the Fort Scott Junior College that had been first housed within and administered by the high school.
In should be noted that the 17 two-year post high school institutions had very little identification of their own in the 1960s. The Wichita Eagle began a series of stories about the schools in May 1965 by revealing that at the time only three Kansas junior colleges, in Independence, Hutchinson and Kansas City, ("jucos" as they were called) were accredited by the North Central Association of Colleges and Elementary Schools. After interviews with educators statewide, one Eagle headline revealed, "Three Jucos Accredited; Others Fear to Apply."
Faith, not fear, led Lucile James and others to set higher standards. In 1966 Normand writes that she and himself were among those who attended a ground-breaking for a new college facility in Fort Scott. It would accept its first students one year later. During the next five years the junior college movement would gain impetus.
Carl Heinrich became director of these new schools, speaking to the Fort Scott faculty on at least one occasion. The Kansas Legislature finally gave jucos more support and respect. Pride grew with the funding, as well as their visibility, and they were renamed "community colleges." No longer were they considered "junior."
Ms. James' zeal was infectious. As a graduate student at what is now called Pittsburg State University we are told that she caught the attention of like-minded college president, Rees Hopkins Hughes who battled with another administrator on her behalf. Strength, it appears, builds strength, something else her students admired about her.
As a standard-setter during a seminal maturation period of community colleges, Ms. James might have been given more attention in Normand's book had he wished to place her in this state or national scene during this period of growth. But such overt recognition for this albeit strong-willed woman seemed out of character. From the moment of her elopement and marriage to the struggles with illness at the end of her life, she cared more about the challenges of educating individual students. Their successes were her satisfaction.
Normand and his lively mentor remained lifelong friends. They often attended music events or plays together in order to spread their love of learning to others by example.
"We became good friends early, which later included our families," Normand explains. "She helped me become a more effective teacher and, in time, her wise counsel served as a guiding force in my life, in and out of the classroom."
Lucile James sadly succumbed to a brain tumor in 1985, but her memory lives on in the minds of students and Normand and in how future administrators strive for higher standards and expectations. The book's depiction of such an extraordinary woman should motivate today's educators for continuing to set these same high standards.
--
About Marcel Normand--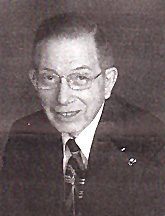 Marcel Normand, pictured at left, is author of one other book, available on Amazon.com titled Fr. John Reinkemeyer: God's Humble Servant. Written in 2009, it is about a Catholic priest and life-long inspiring mentor he knew in the 1960s. Normand, whose father was born in France, is a native of Arma, Kansas. He received a Bachelor of Science and Master of Science from Pittsburg State University and did post graduate work at the University of Wyoming at Laramie. He became an instructor of French as well as English and social science, not only teaching at St. Mary's-Colgan High School in Pittsburg, Kansas and Liberal High School in Liberal, Missouri but also in Fort Scott High School at the same time that Lucile was hired. He taught full-time at Fort Scott Community College for 26 years, did some part-time teaching, then retired in 2010.
He and his wife Helen have three married children, 12 grandchildren, three step-grandchildren and three step-great grandchildren.
Says Normand:
I was influenced by Lucile James in a variety of ways because I met her when I was 25 and she was a seasoned teacher (accepting assignments mostly in Linn and Bourbon counties in Kansas) at age 52. She taught me a lot about classroom presentation and management. As our friendship progressed, I came to love the English language more and more.
To order a copy of The Lucile James Story--Portrait of a Remarkable Teacher Send a check for $23.00 (includes shipping, tax) to Marcel Normand, P.O. Box 617, Arma, KS 66712.