Fantasy books: the great escape
September 08, 2015
by Jack L. Kennedy
Benor Dorfinngil embraces the term "virgin territory" from both human and geographic perspectives.
The lusty, life-loving lead character in British fantasy author Jim Webster's Swords for a Dead Lady and series mate Dead Man Riding East (Andrews UK Limited) is a cartographer by profession, a hero and risk taker by avocation. In the energetic, well-crafted books Benor finds and saves concubines in castles, damsels in distress, and conveys nourishment in many forms, including the description of a group of wild creatures as food species left on the reader's tongue. Chastity, romance, chasing the "bad guys" for fun and profit, and upholding the honor of both self and distressed females are constant themes, long threads in individual books and the series as a compelling, creative whole.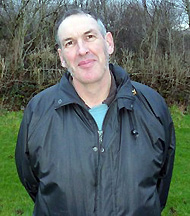 Warriors' swords are sharp, metal breastplates reverberate as Benor and friends seek each new adventure. The author, pictured, through his protagonist always seems to be searching, to be drawing new lines.
The tales feel as if they are set in ancient, feudal days. Setting details, strength of characterization and dialog often seem to be author Webster's strengths, as he charts his way through the tightly-written territory. And Webster agrees that personality not plot, drives his adventurous books.
"My stories tend to be character-driven, and are how people react to the world around them," he said, in an e-mail interview from his sheep-raising farm in South Cumbria near London. "Basically they're stories of a "nice guy" who isn't trying to save the world. He or she is merely trying to make one particular part of it a little better."
Writing fantasy/science fiction is creating a world out of whole cloth, Webster added, not observing and reacting to reality as writers in other genre do. His realities seem to be in the mind's eye not just within the scope of direct vision.
"You can have fun and write a story which sweeps the readers along and deposits them gently at the end of the book feeling a faint sense of a world they desperately want to revisit," Wbster explained.
Readers eager to suspend disbelief and ride with Benoir and buddies through what feudal frontiers might have looked and felt like will enjoy the journey, even if they had not favorably regarded the fantasy writing field earlier. In whatever time, in a real or in an imaginary universe, there are always flowers to be protected, bad guys to be tamed, and new roads to be charted.
These two books are the first Webster wrote. The publisher first introduced them only electronically, then decided recently to add a paperback edition. However, the author has added new titles to his repertoire.
Some of Webster's best writing may be of the past..but that is his forté, drawing from his love of ancient military history. His fantasy books draw out emotions, chivalry, and heros holding back the forces of barbarism as if he had been around firsthand to observe the days of yore, with knights, castles and damsels in distress.
Anyone who likes a good story, wants to push their imagination, or just enjoy a good ale at a tavern with friends, will find the Bebor/Webster combination compelling, challenging and creative.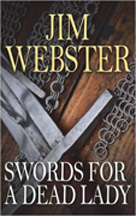 Title: Swords for a Dead LadyAuthor: Jim Webster
File size Kindle edition: 1831 KB/182 pps./ASIN: BOO6C4C800/$4.49
Paperback/190 pp./ISBN-10: 184989809X/ISBN-13: 978-1849898096/$9.99 at amazon.com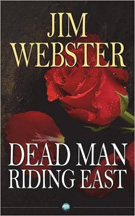 title: Dead Man Riding East
Author:Jim Webster
File size Kindle edition: 1797 KB/218 ppg./ASIN: B00A8MTB46/$4/49
Paperback/218 pp./ISBN-10: 1785382217/ISBN-13: 978-1785382215/$9.99 at amazon.com