How human characteristics span time
November 24, 2015
by Jack L. Kennedy
Does the future mirror the past?
Doug Welchman apparently thinks so, in his science fiction fantasy, Psi' Ops and the Battle of Minds. (XLibris) Militarism, dictatorship versus free will, sex, romance, shaky attempts at unity among governments, racial bias and slavery, ego and other enticing elements are woven into the tale of a few favored folks who as psi' ops are able to read others' minds, and if they find anything in them can plan military and political strategy. (As if they were preparing for an upcoming Presidential debate?) There is some early talk about developing a pill that will make one more open-minded, but psi' ops in the plot are born with the skill.
Threads of the past, what might be or what might have been are a strong part of the fabric of the book. That approach might entice reluctant readers who ordinarily believe that the sci-fi fantasy genre is a bit like devouring abalone or cucumbers—a matter of acquired taste.
Welchman's background seems to have prepared him for different definitions of reality and how to operate within the psi' ops militaristic framework. He reports that his first career was driving semis, perhaps, like on the often unexplored roads taken by his book characters.
"After that, I wanted to fly for the Navy," Welchman said, explaining his life experience further. "I ended up flying an F-14 Tomcat for three years." After his discharge, Welchman worked for the National Aeronautics and Space Administration. (NASA), which many may describe as his having blended reality and fantasy for decades.
As good and bad guys in the book engage in interstellar warfare, the reader is introduced to universal human emotions even within futuristic concepts such as scientific regeneration of lovers killed in battle. Tension among and misreading of various ethnic groups exist but so does development of value systems no matter what time frame. The attempts by the League of Planets to end "racial cleansing" are rather reminiscent of the League of Nations or United Nations.
Welchman's book is riddled with the typographical or grammatical errors too often found in self-published books. But those barriers do not erase a good creative framework leading to the end and a new beginning for Rijil and his regenerated, passionate wife Keke. He was a lucky guy. He survived Ascension Day when all gifted 21 year olds are supposed to be killed. He became a fighter pilot, not unlike author Welchman. Rijil met the love of his life, and they apparently will literally live happily ever after.
Welchman seems to say that both the inner and outer worlds are worth exploring and caring about, and one must know and respect history to survive in the future.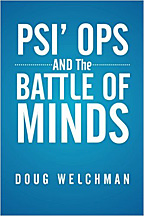 Title: Psi' Ops And The Battle of Minds
Author: Doug Welchman
Publisher: Xlibris (June 11, 2015)
Paperback: 246 pages/Kindle: 696 KB
ISBN-10: 1503570177
ISBN-13: 978-1503570177
ASIN: B00ZYC6TSG
Editor's note: A game in which players use the main character's foggy but developing access to various psychic powers in order to combat the enemy was released in mid 2004. This video game was called Psi-Ops: The Mindgate Conspiracy and then Psi-Ops: Psychic Operation. Nick Scryer is an operative like Rijil. His mind has been wiped but he regains his PSI powers with the help of Sara, a double agent. The game is only available on the secondary market for those who prefer immersive multimedia to reading books or tablets.