Three children's books are recommended
April 26, 2016
by Jack L. Kennedy
Using the right ingredients is important when choosing or writing books. But when introducing the power of the printed page to a younger audience, three varied new volumes show the right mix can be very nourishing and tasty, at any age.
The Dream Travelers by Cindi Elli (Black Rose) puts a group of curious teens' hopes and dreams on a mental and physical exploration which becomes both real and nebulous as the plot moves swiftly and enticingly along. Author Elli is on a personal trip of her own, completing a book her sister Linda Leslie began writing six years ago, before her death.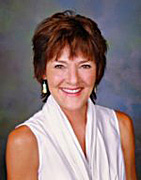 Author Cindi Elli, a resident of the Missouri Ozarks with her husband and a menangerie of rescued dogs and cats, is known in Southwest Missouri as a former journalist for a group of community newspapers. The Missouri Press Association awarded her first place for a series of articles describing life in an Amish community in Webster County.

Perhaps her own drive and experiences explain why "Dream Travelers" has a real-life flavor mixed with its fantasy. Unlike some children's books by less aware souls, the Elli journey does not pander to low expectations in language, ideas or ranges of interest among younger readers. The first-time book author mixes in both physical and mental movement and growth, and puts history into perspective as she cites the Roosevelt family and others. As one line says, "Yesterday is history, tomorrow is a mystery, today is a gift."
As the children are drawn to dream and test and avoid the tentative and trivial, they learn about themselves and each other. Curiosity and circumstance combine to make their journey more compelling with each step.
Discovery, uncertainty, development of understanding without prejudice of varied people and situations , and the strong message that "you create your own dreams," are frequent, if not overt, themes as the pages take readers and characters down many paths. "Dream Travelers" is worth taking the trip, and may surprise readers with its twists and turns. That's life.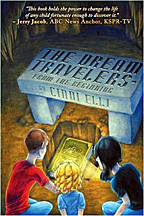 Title: The Dream Travelers
Author: Cindi Elli
Paperback, 192 pages, $15.95 on Amazon.com; Kindle, 2212 KB, $2.99 on Amazon.com
Publisher: Black Rose Writing; First Printing ed. edition (September 4, 2014)
Language: English
ISBN-10: 1612964117
ISBN-13: 978-1612964119
ASIN: B00NQD4ILU
&nbsb;
More suggestions for readers
Younger readers will enjoy exploring You Are a Powerful Creator, MY Little One by Monica Iglesias with art from Robert Paul Matheus (Balboa) and Bella and Harry -- Let's Visit Jerusalem by Lisa Manzione, illustrated by Kristine Lucco.
A true life story, Iglesias' book describes a typical child named Francesco who discovers that he has the power to create happiness. However, using this power brings the message that it should be used wisely.
Both books are cogent, colorful ways to get across elementary concepts such as getting along and sharing with others while having fun. "Jerusalem" is one of a series of destinations published by Bella & Harry, LLC. The tenth book in the series, it takes the siblings, not humans but cute little pups, on a visit to Masada, the Old City and the City of David. For more information about the adventures of Bella & Harry go here.
Both authors include a glossary of new words in English or other tongues.
---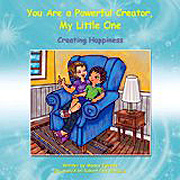 Title: You Are a Powerful Creator My little One
Author: Monica Iglesias
Paperback, 28 pages; Hardcover (out of print); Kindle, 4044 KB
Publisher: Balboa Press (August 1, 2014)
Language: English
ISBN-10: 1452515875
ISBN-13: 978-1452515878
ASIN: B00MPFXP5K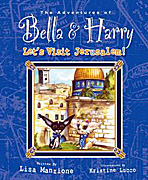 Title: Let's Visit Jerusalem!: Adventures of Bella & Harry
Author: Lisa Manzione; illustrator: Kristine Lucco
Hardcover: 35 pages; Kindle, 17204 KB
Publisher: Bella & Harry (September 1, 2013; May 1, 2015)
Language: English
ISBN-10: 1937616002
ISBN-13: 978-1937616007
ASIN: B00WVM0JLA