Reconstruction after the tornado
May 25, 2011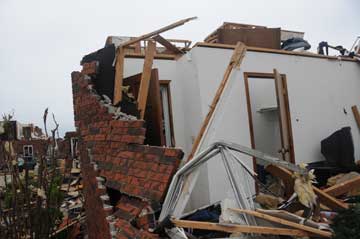 Veneered brick crumble from the thin plywood backing during the tornado that hit this apartment complex in Joplin
Tampa, FL - As attention turns toward recovery and rebuilding in areas devastated by tornadoes, the Insurance Institute for Business & Home Safety (IBHS), a non-profit scientific and educational organization supported by the property insurance industry, has expert-based information in the field of wind-related building performance for residential and commercial properties and building codes.
"Tornadoes move very quickly and pack tremendously destructive power, as we have seen too often in devastated communities in several states this spring," said Julie Rochman, IBHS president and CEO. "However, as people build new – or rebuild destroyed – homes in tornado-prone areas, they should know that there are steps they can take to better protect their families and possessions from future windstorms."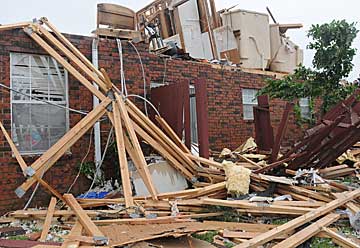 A less expensive system of trusses used for this apartment complex roof is shown shattered on the ground. Although no attempt was made to use added support measures, it is highly unlikely that even that would have survived the intensity of an EF-5 tornado, such as the one ravaging Joplin, MO.
Rochman said that the best option for giving structures a fighting chance of surviving thunderstorms with intense straight-line winds, as well as weak or moderate tornadoes, is to upgrade to better-than-building code standards that provide the same type of robust, continuous load paths used in coastal hurricane-prone areas. "Strengthening connections between the roof and the walls, between second- and first-floor walls, and between the ground floor walls and the foundation can provide increased and much-needed structural strength," noted Rochman. "Unfortunately, the building codes in the inland sections of our country, away from hurricane-prone regions, offer little protection against high-wind storms."
Minimum upgrades in structural connections typically used in design against hurricanes add an average incremental cost of 2% of the total cost of the building. "For the most severe tornadoes, such EF 4s or EF 5s, the best safeguard is a storm shelter," said Dr. Tim Reinhold, IBHS senior vice president of research and chief engineer. "However, at the EF 0, EF 1, EF 2 or EF 3 levels, enhanced construction techniques used in hurricane-prone regions, such as continuous load paths and, could reduce damage and significantly increase the likelihood that the home will still be standing after the storm.
People can find more information about tornadoes by going here.