Branson music show pioneer passes away
August 13, 2007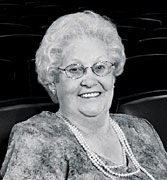 Bessie Mae Presley
1923-2007
Bessie Mae Presley, 84, of Branson, passed away peacefully at Skaggs Community Health Center on Sunday, Aug. 12, 2007. The matriarch of Branson's nationally renowned musical family and owners of Presleys' Country Jubilee, Bessie Mae courageously battled pulmonary fibrosis and diabetes for the past several years. With a laugh in her voice and a twinkle in her eye until near the very end, she left this Earth in the way she wished — surrounded by members of her large, loving family.
Born Bessie Mae Garrison near Cleveland, OK. on July 4, 1923, she and her twin brother, Jesse, were two of eight children. The family moved back to Alpena, AR. in the late 1930s, where Bessie Mae completed high school in three years. Upon graduation, she moved to Springfield, MO. to attend Drauhon Business College. It was at Springfield's Doling Park (at the bumper car rides) that she met her husband-to-be, Lloyd Presley. They were married on November 4, 1942 and were nearly inseparable for almost 65 years. The couple, with their four children, lived in Springfield for the first 25 years of their marriage.
In 1967, Lloyd and Bessie Mae moved to Branson, and along with their children, Deanna, Gary, Janice, Steve, Deanna's husband David Drennon and Gary's wife Pat, opened the Mountain Music Theater (now Presleys' Country Jubilee) on Branson's Highway 76. Theirs was the first music theater on what was then a lonesome stretch of asphalt, a far cry from the entertainment mecca Branson is today.
The entire family continued to work numerous outside jobs in the early years. Bessie Mae's steadfast encouragement and tireless dedication inspired the family to persevere year after year as they watched their business grow. Although never appearing on stage, Bessie Mae's work behind the scenes was a major contribution to the theater's success. Bookkeeping, sewing costumes and selling concessions were among her many jobs through the years. In the last few years, the job she loved the most was greeting the many friends and fans that attended the show.
The Presley family celebrated the music theatre's 40th anniversary of live performances on June 30, 2007. Bessie Mae, together with the other members of her family, was honored by Missouri's Governor Matt Blunt, the state legislature, city of Branson, the Branson/Lakes Area Chamber of Commerce, and the Taney County Commissioners for outstanding contributions to Branson's entertainment industry.
Bessie Mae was beloved by not only her loyal and tight-knit family, but by the Branson community and the many friends she had come to know through her work at the theater over the years. Always ready to help those who might require a hand, she consistently placed her needs behind those of family and friends. It could easily be said that Bessie Mae Presley never met a stranger…but if she did, they did not remain a stranger for long.
Funeral services will be held at 10:30 a.m. on Thursday, August 16, 2007 at the Tri-Lakes Church in Branson. Visitation will be held from 4 p.m. to 6 p.m. on Wednesday, Aug., 15, 2007, at Greenlawn Funeral Home in Branson. In lieu of flowers, the family has requested memorials be made to Skaggs Community Health Center Foundation, in memory of Bessie Mae Presley, and mailed to P.O. Box 650, Branson, MO. 65615.