Webb City's super accepts state job
February 19, 2010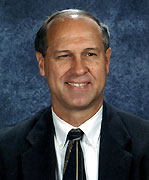 Ron Lankford, pictured at left, superintendent of the Webb City School District, has been appointed deputy commissioner for fiscal and administrative services, according to an announcement by Missouri Commissioner of Education Chris L. Nicastro. Lankford's appointment is effective August 1, 2010.
"Dr. Lankford will bring a wealth of knowledge and experience to our agency. He is highly regarded throughout the state and respected for his expertise and leadership in financial management and academic issues. The State Board of Education and I are delighted we were able to attract a leader of his caliber," Nicastro said.
Lankford was honored earlier this year as "Superintendent of the Year" by the Missouri Association of School Administrators. He began his career as a social studies teacher and counselor in the Harrisburg School District. He joined the Webb City School District in 1977 as a junior high school principal and became junior high principal, high school principal and associate superintendent before being named superintendent in 1998. He had previously announced his plans to retire as superintendent at the end of this school year.