PhotoSpiva 2014 announces winners
March 22, 2014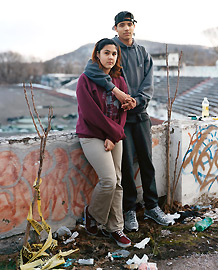 "3PM" by Michael Joseph Dalton of Brooklyn, New York is one of the photographer's four digital images that took first place honors at PhotoSpiva 2014. The others may be found here.
Award winners have been announced for the 38th annual PhotoSpiva, which opened March 7, 2014, at Spiva Center for the Arts, 3rd & Wall in Joplin. The exhibit runs through May 4.
The winners were selected from 82 images that were chosen for the exhibit by juror Dornith Doherty, professor of photography at the University of North Texas, Denton. The 82 that she compiled for the exhibit were selected from more than 1,000 submitted by 176 photographers nationwide.
Awards were announced at the annual Juror's Lecture. First place honors went to Michael Joseph Dalton, Brooklyn, N.Y., for four digital images: "3PM," "Hinchcliffe Stadium," "The Great Falls Historic District" and "Sunday Afternoon." Robert Sulkin, Roanoke, VA, received second place for two digital prints, "Elegy for Cambodia" and "Elegy for My Lai." Third place went to Charles Jeffrey Mintz, Cleveland, OH, for two images, "Clementine – Original Owner" and "Jeff and Dad – Haunted House."
Merit Awards were presented to Timothy H. McCoy, Cumming, GA, for "Big Creek, Cumming, GA," gold-toned albumen print; Mark Neuenschwander, Joplin, for "Cold Brewed – Don't Call Me Murder Face," digital print; and Jim Nickelson, Camden, ME, for "Pyrotechnic #4," archival pigment print.
Honorable Mention designations were awarded to Daniel W. Coburn, Lawrence, KS, for a body of work, "Ascent and Fare for the Ferryman," archival prints; Jane A. Szabo, Altadena, CA, for a body of work, "Hallway and Superman," digital prints; and Claire Allana Warden, Denton, TX, for "Botanical Specimen with Salt (Wildflower No. 3)," platinum palladium print.
PhotoSpiva 2014 is sponsored by Freeman Health System with additional financial assistance from the Joplin Convention and Visitors Bureau, the Freeman R. Johnson Trust, and the Missouri Arts Council, a state agency.
Spiva Center for the Arts is located at 222 W. Third St. Admission to the galleries is by voluntary contribution with $5 suggested for adults and $1 for students.
Gallery and gift shop hours are 10 a.m. to 5 p.m. Tuesday through Saturday, and 1 to 5 p.m. on Sundays. The center is closed Mondays and major holidays.