Humorous woodcarvings highlight new Spiva show
May 13, 2014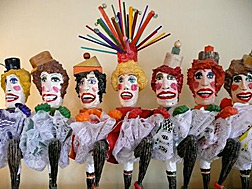 Whimsical woodcarvings and paintings that take a humorous look at every day events and poke fun at our human foibles will fill the Main Gallery of the George A. Spiva Center for the Arts when the posthumous exhibit, "Kathy Ruth Neal: Wood at Play" opens on Saturday, May 17, 2014.
A members-only opening reception for the exhibit will be held from 5:30 to 7:30 p.m. Friday, May 16. The exhibit will run through July 6, 2014.
The work of this self-taught Kansas City artist does not hold back in irreverently depicting the humor of human nature. Neal's woodcarvings frequently represent plays on words, offering literal interpretations, rather than the accepted, figurative ones.
Neal, who died of leukemia in 2009, has described her work as depicting vignettes of American life, focusing on everything from the circus and movies to politics and issues of the day. Her vibrant colors and attention to the individual details of her characters — their expressions, attitudes and fashion — present a signature style.
Neal's work as a woodcarver stemmed, in part, from surviving breast cancer in 1993. After recuperating from the cancer, she hiked the Appalachian Trail in the Great Smokey Mountains. Inexplicably, she felt compelled to pick up a stick and carve designs in the wood. It led to a 15-year career as a woodcarving artist.
A repeated subject of Neal's work is iconic Mexican painter Frida Kahlo de Rivera(1907-1954), who suffered from long-term health problems, like Neal. In recognition of Neal's art work that focuses on Kahlo, Spiva will have showings of films documenting the life of the Mexican artist. One, "The Life and Times of Fria Kahlo," will be presented at 6:30 p.m. Tuesday, May 20, and the other, the Oscar-winning biopic "Frida," will be shown at 6:30 p.m. Tuesday, May 27.
Neal's work has won numerous awards and was part of traveling shows through Exhibits USA. Her work that was created in response to the 9/11 attack on the World Trade Center is part of an online database and virtual gallery of artistic work and is included in the Spiva exhibit. Her creations have been featured at the Belger and Eclectics galleries and MattieRhodes ArtGallery, all in Kansas City; the Grassroots Art Center, Lucas, KS; and the Billy Graham Museum of Religious Art in Wheaton, IL Her pieces are in collections from Wagga Wagga, Australia to Naples, Florida.
Appearing in the Regional Gallery…
Accompanying the Neal exhibit will be the Regional Gallery exhibit featuring luminary animals by local artist Dr. Michael Gory.
Gory's pastoral scenes of animals utilize a dance of light and glowing, intense color to present a fluorescent expressionism. His glorification of animals stems from his work as a veterinarian. He also holds a Master in Fine Arts.
This is Gory's first one-man show, though his work has been in group shows at Spiva, as well as the Thomas Hart Benton Four-State Regional Art Competition and Exhibit at Crowder College. In 2013, he received the Curator's Choice award in that show.
"Michael Gory: Luminary Animals" is sponsored by John and Joy Cragin, Joplin; "Kathy Ruth Neal: Wood at Play" is sponsored by "The Cancer Chicks" and Friends. Both also are presented with additional financial support from the Missouri Arts Council, a state agency.