Joplin Police Blotter: UMB robbery
June 18, 2012
UPDATE: The Joplin Police Department has identified a suspect in the bank robbery that occurred Monday. A white male suspect entered the United Missouri Bank on June 18, 2012, shortly after 3 p.m. and demanded cash from the teller. He left the building with an undisclosed amount of cash.
Wesley C. Osborne Jr., age 35, of Joplin, has been charged with the robbery. A federal complaint has been filed through the United States Attorney's office in Springfield. Osborne is currently in custody at the Ottawa County Jail, in Oklahoma, on unrelated charges.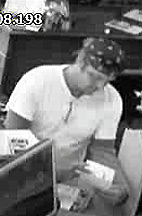 The Joplin Police Department in cooperation with the FBI is investigating a robbery that occurred at The United Missouri Bank at 2106 S. Maiden Lane.
Suspect, pictured by bank camera, is described as a white male in his 30s.
Please contact Detective Sgt. Higginbotham at the Joplin Police Department (417) 623-3131 with any information in regard to this investigation.