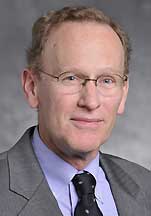 (ST. LOUIS) - The Board of Directors of Missouri Foundation for Health (MFH) announces the selection of Robert Hughes, Ph.D., as MFH's next president and chief executive officer, after a nationwide search. Hughes begins his duties on November 1, 2011, and succeeds founding president and CEO Dr. James R. Kimmey, who is retiring at the end of 2011.
Hughes brings nearly 30 years of philanthropic leadership, public health and health policy experience to the position. He currently serves as a visiting research professor in the Center for State Health Policy, Institute for Health, Health Care Policy and Aging Research, at Rutgers University, in New Jersey. From 1990 to 2010, he worked at The Robert Wood Johnson Foundation (RWJF) in New Jersey, serving most recently as vice president and chief learning officer.
A native of Illinois, Hughes has his doctorate in behavioral health from Johns Hopkins University's School of Hygiene and Public Health; a master's degree in student development from Ohio State University's College of Education; and a bachelor of arts degree in philosophy and religion from DePauw University. He is a member of the Center for Effective Philanthropy's advisory board and a former board member of Grantmakers in Health. Prior to joining RWJF, Hughes was an assistant professor of health administration and policy at Arizona State University, and a Pew Postdoctoral Fellow in health policy at the University of California-San Francisco. He has published extensively, focusing mostly on philanthropic learning, the effect of grantmaking on improving health and health care, and health policy issues.
On his decision to join MFH, Hughes said, "Throughout my career in philanthropy, I have been committed to helping improve the health and well being of the public. MFH, its board and staff already have developed an excellent reputation for that same commitment in the philanthropy field. I am excited to join with them to create innovative and strategic solutions that address Missouri's most pressing health issues."
In announcing Hughes' appointment, K. Beth Johnson, chair of the MFH Board, said, "It was extremely important that we find a new president who could build on the strong foundation already in place at MFH. In Hughes, we have someone who has demonstrated excellence in philanthropy given his strategic viewpoint, innovative leadership and deep knowledge of public health and health policy issues, all of which are hallmarks of MFH's role in Missouri."
About MFH
MFH is the largest nongovernmental funder of community health activities in Missouri. With assets of almost $1 billion, MFH provides $50 million in nonprofit grantmaking annually. MFH was created in 2001 out of the conversion of Blue Cross Blue Shield of Missouri from nonprofit to for-profit status.