Appeal of online grocery shopping
April 29, 2007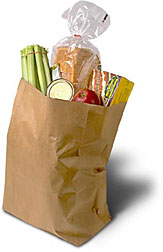 Add e-grocery to the list of time-saving services that Joplin residents can utilize online.
PriceCutterOnline.com, which launched successfully in the Springfield area in July, is set to debut in Joplin on May 1, 2007, and will make grocery shopping as easy as clicking a mouse. Delivery will be available within Joplin's city limits or customers will have the option of picking up orders at the Price Cutter Plus store's parcel pick-up, located at 1850 S. Maiden Lane.
Customers can fill their virtual grocery carts by visiting the user-friendly Web site here. Following a brief registration process for first-time visitors, customers will be directed to the virtual store to choose products by category.
Returning customers have the time-saving convenience of signing in and accessing their previous orders and frequently purchased items. Favorite recipes may also be saved, allowing customers to choose the desired recipe and the system will fill the virtual shopping cart with all ingredients needed.
Orders may be placed 24 hours a day, seven days a week, but delivery and pickup services only are available twice daily, from 11 a.m. to 1 p.m. and 5-7 p.m., Monday through Friday, with the exception of holidays. The fee for delivery to homes or offices is $10. (The fee for delivery of floral, balloon or gift baskets, available Monday through Saturday, is $5.)
Customers may pick up their pre-selected orders at Price Cutter Plus, 1850 S. Maiden Lane, in Joplin, between the hours of 11 a.m. to 1 p.m. and 4-8 p.m., Monday through Friday (except holidays) for a fee of $5, a reduction of 50%.
Customers, said store director Mike Chambers, are anxious for the new, high-tech service. "They've been asking about it since it's discussed on the announcements over our Muzak system," he said.
Rob Marsh, director of planning and development for RPCS Inc., said that the employee-owners of Price Cutter choose the best quality products when filling orders placed online. "We shop for our online customers as if we were taking these groceries home to our own families," he said.
The success of e-grocery in the Springfield area has been phenomenal, Marsh said.
"If you compare the first week of our e-grocery business to our current e-grocery business, sales volume has increased more than 1,000 percent," Marsh said. "It's a great feeling to launch a service and know that you're meeting the needs of your customers in a whole new way."
The service was launched July 24, with delivery initially available to homes and businesses in Springfield, Ozark, Nixa, Rogersville and Willard. Customer response was so positive – and immediate – that RPCS Inc. officials worked quickly to meet requests to add delivery to Republic, Battlefield and Brookline within the first week of service.
National trend
While e-grocery shopping is in its infancy across the country, industry research predicts that it will experience steady growth as consumers realize its value. A report from the Food Marketing Institute reports that 3.7 million people shopped online for groceries in 2005.
According to the New York-based firm JupiterResearch, Americans bought $3.3 billion worth of groceries online in 2005, with grocery ranking as the fourth largest online shopping category. JupiterResearch reports that sales from e-grocery are expected to grow at a compound annual rate of 23 percent through 2010.