Please say hello to Bri
March 10, 2011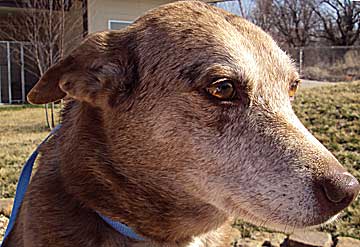 Meet Bri the heeler mix: Brought in by her very ill owners along with a little Shihzu (who was adopted weeks ago). She's a big girl with a big twinkle in her eyes! She looks like she's asking: "What's wrong with me? Do you know any Yorkies that can herd cattle?"
Bri is only one of the many big dogs just waiting for a chance to show her new owner how much love she can give. The Animal Adoption & Resource Center located at 140 Emperor La. in Joplin (off of N. Main Street), sees thousands of dogs each year. Most are cute, cuddly and everyone wants them; but the real heart breakers are the big dogs (more than 40 pounds) many who have been waiting at AARC for more than a month.
In an effort to place big dogs, AARC has lowered their adoption fee for big dogs to only $20; better yet, if a big dog has been on the adoption floor for more than a week, all fees are waived! Yes, that means FREE! The adoption fee includes spay or neuter surgery, first set of shots and a general wormer.
Did you know:
Big dogs sleep more
Big dogs potty train quickly
Big dogs are gentle and less yippy
Big dogs give bigger kisses, bigger hugs and have great big hearts
"We want people to think adoption first and come to AARC when they are looking for a pet" said Karen Aquino, AARC director. "You'll find great animals waiting just for you. Please, give them a chance."
Since 1948, AARC's successful community programs include a shelter and adoption center for in excess of 12,000 orphaned animals each year as well as a humane education program for area school children. For more information go here.