Youngest chess author shares secrets
April 18, 2010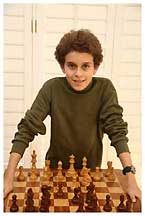 Boris Spassky, Anatoly Karpov, Garry Kasparov, and Viswanathan Anand, as youngsters under 20 years old, have won the World Junior Chess Championship. In 2007 add Daniel Naroditsky, pictured, who was 11, to that list. Naroditsky is the top-ranked US player in his age group and ranked number nine for those 21 and under.
Now he can add the title of the youngest chess author in history to his ever-growing resume with the March 2010 release of the book, Mastering Positional Chess.
In the book Naroditsky, who occasionally flies off to New York for tutorials with Kasparov, teaches very practical lessons based on his own experience combined with the extensive analysis he has done of previous chess greats. He offers verbal explanations on the essence of positional chess that includes positional sacrifices, improving piece placement, defence in worse positions, prophylaxis and building and breaking fortresses. He has the reputation for seeing all exponential variations on the chess board 15 moves into the future, blind-folded and with as many as 25 opponents at the same time.
Naroditsky is a member of The Mechanics' Institute Chess Club of San Francisco that was founded in 1854. A native of California, he is fluent in both English and Russian. He is in the eighth grade at Crystal Springs Uplands School in Hillsborough, CA and resides nearby with his parents. His older brother is a freshman at UCLA.

Title - Mastering Positional Chess
Author - Daniel Naroditsky
Publisher - New in Chess; (Mar. 16, 20010)
240 pp.
$16.29 at amazon.com
ISBN-10: 9056913107
ISBN-13: 978-9056913106