Taylor retires from TAMKO after 34-years
May 15, 2009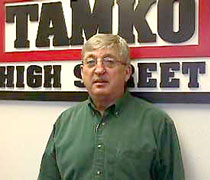 After 34 years of service, Richard Taylor, pictured, has retired from TAMKO's High Street manufacturing facility in Joplin.
"Richard has been a valuable member of the TAMKO team for many years," said Kent Blanchard, vice president of roofing manufacturing for the family-owned TAMKO Building Products, Inc. "We greatly appreciate his 34 years of loyal service - a rare achievement within itself – and we wish him all the best in his retirement."
Taylor joined TAMKO on May 2, 1975 as a loader at the High Street facility and was soon promoted to palletizer operator. He then worked in various positions on the roofing line.
Taylor was promoted to maintenance manager, moved to assistant production superintendent and then production manager. In September 2004 he became facilities manager, remaining in this position until his retirement which became effective on May 1, 2009.