Nancy Good to receive service award
January 16, 2014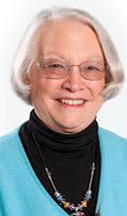 Nancy Good of Joplin, pictured, will be presented the Drum Major for Service Award, the highest honor offered by the Corporation for National and Community Service. The presentation will take place at 9:45 a.m. on Monday, Jan. 20, 2014, at The Independent Living Center, 2639 E. 34th St., Joplin.
Named in honor of Martin Luther King who championed Americans to serve others, Good's award represents 40 years of service to the Joplin community. She has served United Way, Wildcat Glades Conservation and Audubon Center, the Freeman Foundation and the Joplin Area Chamber of Commerce. Currently, she is heavily involved with Bright Futures USA as a member of its board of directors and as treasurer and currently is its liaison to Bright Futures Joplin, the group that she has served since its inception in 2010.
A former real estate agent, Good owns The Title Place on 32nd Street in Joplin. In 2012 she was elected vice chair of the NFIB/Missouri Leadership Council of the National Federation of Independent Business, Missouri's leading small business association.