Pierce City artist is featured at the MARC
February 28, 2014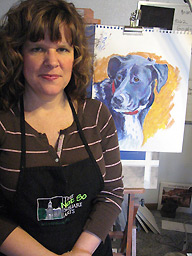 The exhibit, "Animals, Places, and Things," featuring the oil and pastels- paintings of artist Becky Golubski, pictured, will be on display during the month of March 2014 at the MARC in Mount Vernon. An artist's reception will be held on Friday, Mar. 7 from 6:30-8:30 p.m.in the MARC's gallery at 822 W. Mt. Vernon Blvd. Admission is free.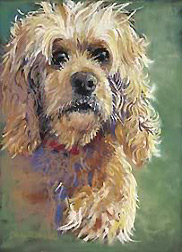 "Dear old cocker spaniel" is a portrait by Pierce City artist Becky Golubski..
For the last seven years, pet portraiture by commission has been Golubski's primary focus. She has created award-winning portraits of dogs, horses, and cats using soft, vibrant, buttery pastels. For her plein air oil paintings she uses a palette knife and a technique (impasto) that creates texture similar to layering with soft pastels.
After launching her career at artCentral in Carthage in 2007, she has exhibited at many local venues and been featured in the Show Me and Connections magazines. She furthered her art education by attending the Foundation's Program at the Kansas City Art Institute and the program at Kansas City's Avila College.
A fervid advocate of the arts, Golubski founded the Pierce City Arts Council in her hometown that will host the 6th annual Pierce City Arts Festival on May 17, 2014. She is a member of JRAC, SRAC, artCentral, Spiva, Daytripper's Plein Air, the Ozark Pastel Society and the Pastel Society of America and is co-director of the Thomas Hart Benton 4-State Regional Art Competition.
Anyone interested in attending her studio classes may contact her at (417) 489-3041 or by sending an e-mail here.