Joplin High School principal is named
July 15, 2016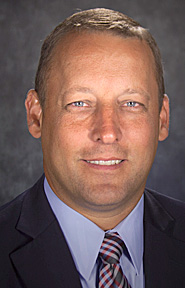 Dr. Brandon Eggleston, pictured, has been named Joplin High School's new principal. He will begin the position August 1.
Eggleston has served as principal for North Middle School in Joplin since 2011. Serving the district for 17 years, Eggleston began his career with Joplin Schools as a teacher at North before being named assistant principal there from 2008-2011.
Eggleston received a bachelor's degree in physical education from Missouri Southern State University, Joplin. He earned a master's degree in education administration from William Woods University; a specialist degree in educational leadership from Missouri State University, Springfield; and a doctorate degree in educational administration from Lindenwood University, St. Charles, Missouri.
"As the only public high school in Joplin, Joplin High School is the flagship school for our district and our community," said Joplin Schools Interim Superintendent Dr. Norm Ridder. "Choosing the right leader to guide our JHS staff and students is critical not only for the success of our high school but also for the success of our district. Dr. Eggleston is the right fit for this important role. His experience in the classroom and as a building administrator and his leadership in developing and supporting a positive student and achievement focused culture at North Middle School will help ensure a continued focus on improvement and excellence at Joplin High School."