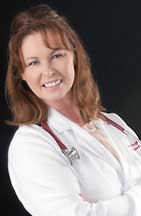 INTEGRIS Baptist Regional Health Center is pleased to welcome Annette Pugh, M.D., pictured, as the newest member of the medical staff. She will open her practice in Miami beginning Aug. 1, 2011, providing care for the entire family, from newborns to geriatrics.
After receiving her undergraduate degree from Arkansas Tech University, Pugh attended medical school at the University of Arkansas for Medical Sciences College of Medicine and the International University of the Health Sciences, receiving her Doctor of Medicine degree. She completed her core clinical internship with Lakewood Hospital in Cleveland, Ohio, and her residency at the Oklahoma University Health Sciences Center family medicine residency program. During her time at Arkansas Tech, she discovered that her passion for science and her love of people made a career in medicine a perfect choice.
"One of the things I love most about being a physician is the special relationships I develop with my patients," Pugh said.. "I want to establish a relationship of mutual trust and respect. I want my patients to know me and feel so comfortable with me, they can give me a hug!"
Pugh feels being a mother and having some life experience have helped her become a better physician. "I listen very carefully to my patients. I take the time to understand their thoughts and concerns, then we work together to improve their health," she explained.
"I grew up in Dardanelle, AR, a town of 4,000 people between Little Rock and Ft. Smith," Pugh said. "I love the family feel of a small town. When [husband] Ronnie and I visited Miami for the first time, we knew we had found our new home. No matter where we went in town, we were greeted and welcomed with open arms. Everyone we've met in this community is so kind. I think it speaks volumes for the community and the hospital that so many of the physicians and staff have been there long term. Miami has so many great things to offer. We are looking forward to being a part of the community for many years to come."
Pugh has five grown children and five grandchildren. She and her husband enjoy outdoor activities including a passion for golf.
Randy Jobe, chief operating officer and executive director, physician practice management with INTEGRIS Baptist Regional, recruited the new physician. "Dr. Pugh comes to us directly upon completion of her residency training at the OU Family Medicine program in Oklahoma City, an excellent program that has prepared her well for her practice here. Beyond that, and every bit as important, is the fact that Dr. Pugh and her husband, Ronnie, are genuinely nice people who want to make this community their home," Jobe said. "It's an honor and a pleasure to present them to our community."
Although the doctor's practice won't open until August, patients may call now to be placed on a contact list. These patients will be the first to be scheduled for appointments in August. For more information, phone Paula Tedlock, physician practice management operations manager, at (918) 540-7730.