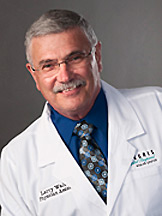 INTEGRIS Health, Oklahoma's largest health system, recently announced that Larry Walther, physician assistant, pictured, is the newest member of their medical staff. Walther, who has become a familiar face at the hospital, sees patients in his office at the INTEGRIS Doctors' Office Center at 310 Second Ave. SW, Suite 101, in Miami.
Walther began his career at age 17 when he became an Army medic and later an LPN. He continued his education by attending the Army's physician assistant school as well as participating in an orthopedic specialty training program. Walther retired from the Army after more than 20 years of active duty.
In 1994, the orthopedic surgeon at INTEGRIS in Miami recruited Walther, his former Army colleague, to work with him at the northeastern Oklahoma hospital.
"The family atmosphere initially drew us to Miami," Walther said. "During our first interview, my wife and I had such a welcome feeling. We left that day saying we wanted to live there."
Walther has a long history of serving patients in the four-state area. During his time with INTEGRIS he also worked in Grove with the late orthopedic surgeon, Dr. Ron Forristall. He later worked in Joplin, and then at the Northeastern Tribal Health Systems facility in Miami where he often provided adult primary care, before returning to his roots at INTEGRIS in Miami.
"I came back to INTEGRIS because of the family friendly environment and the quality of its physicians, surgeons and specialists," Walther says. "I think we have some great people in this hospital. From the nurses on the floor to the staff in the operating room and anesthesiology department, they provide excellent service. It's just as good or better than what you would find in any big hospital, but you aren't a number here – you are a person, you have a name at INTEGRIS and I like that."
Family is important to Walther and his wife Dagmar. They have two children. Marcel, an executive vice president at Security Bank, lives in Miami with his wife, Jill, and their two children, Avery and Lane. Their son Corey works in telecommunications at Chase Manhattan in Springfield. In his spare time, Walther enjoys spoiling his grandkids, playing golf, traveling and riding his motorcycle.
Although orthopedics is a passion for Walther, his focus is primary care, where he can create relationships with his patients.
"I love the conversations with my patients," Walther says. "You have to be a friend and build a relationship with patients. When you have a good relationship with your patients, they develop a trust and a comfort level with you. They have to feel comfortable with you and comfortable contacting you about problems."
Walther accepts Medicare, Medicaid and most insurance and is currently taking new patients. To schedule an appointment, please call (918) 540-7758.