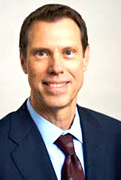 Joel Hart, pictured, president of INTEGRIS Baptist Regional Health Center in Miami, Oklahoma has announced he will retire from the position he has held since 2001. His official last day with the hospital will be October 1, 2013. He has served as an administrator and leader in health care for more than 35 years.
During his tenure, INTEGRIS Baptist Regional has made numerous advances including a $3.2 million emergency department renovation and expansion project; a $2.7 million womenís center; and a $5 million radiology expansion that included the acquisition of an MRI and 64-slice CT scanner. Most recently, a $1.5 million cardiac catheterization laboratory was built to expand cardiology services to patients in northeast Oklahoma.
Under Hartís leadership, INTEGRIS Baptist Regional was recognized nationally for clinical quality and received the 2007 Thomson Reuters Top 100 Hospitals for Performance Improvement Award as well as five Voluntary Hospitals of America clinical awards. The hospital was recognized as a Certified Excellent Business by Certified Healthy Oklahoma, awarded Business of the Year by the Miami Area Chamber of Commerce, recognized by the Joint Commission as a Top Performer on Key Quality Measures, and the emergency department was designated as a Primary Stroke Center by the state of Oklahoma.
In addition to awards and advances in technology, Hart oversaw many improvements during his tenure including expansion of the hospital campus through the purchase of nearby property, demolition of old structures and incorporation of a city street into the campus. The introduction of a healing garden and locally inspired healing art into the hospital has been a welcome addition for both patients and staff.
Hart also instituted a structured leadership development program for hospital managers and supervisors, and increased overall employee satisfaction with the hospital from 80 percent to 91 percent during the past five years.
Concluding an extensive career in the health care field, Hart held top positions at a variety of health care organizations ranging in ownership from governmental to proprietary for-profit, to private not-for-profit. His experience has included hospitals varying in size from 60 to 600 beds. He began his career as vice president of Roanoke Memorial Hospitals and administrator of the Roanoke Memorial Rehabilitation Center in Virginia. Since then, he has worked for hospitals in Tucson, Arizona; Albuquerque, New Mexico and Edmond, Oklahoma City and Woodward, Oklahoma.
Hart has been active in numerous professional, civic and religious organizations. He is a Rotary Paul Harris fellow and has served as president of the Rotary Club of Miami. He also has served as a board member of several organizations including the Oklahoma Hospital Association, Ottawa County United Way, the Miami Area Economic Development Service and the Miami Chamber of Commerce. Additionally, he was appointed by the mayor to serve as a member of the City of Miami Planning Committee. He has also served on the Vestry of All Saints Episcopal Church in Miami.
Professionally, Hart has been a member of the American Hospital Association, the Regional Advisory Council for the American College of Healthcare Executives and the Audit Committee of the Oklahoma Hospital Association. A fellow in the American College of Healthcare Executives, Hart holds a masterís degree in health care administration from Trinity University in San Antonio, Texas, and a Bachelor of Arts degree from Hampden-Sydney College in Virginia.
Jeffrey Stewart, M.D., chief of staff for INTEGRIS Baptist Regional, who has a long history of working with Hart shared these thoughts on Hartís retirement:
ďIíve been very grateful for Joelís leadership during his tenure here. His insight, wisdom and ability to communicate with clarity while, at the same time showing genuine kindness, are virtues I want to emulate. I anticipate that even in retirement, he will continue to make a very positive impact on our community!Ē
Hart and his wife, Julie, will remain in Miami. An interim leader for the Miami hospital will be announced in the coming weeks.