INTEGRIS welcomes Dr. Joel Kraft to staff
June 21, 2014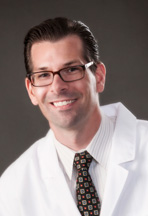 Family medicine physician Joel Kraft, M.D., pictured, has been welcomed by INTEGRIS Grove Hospital after being its chief resident. He joins the practice of Kyle Schauf, MD. and will begin seeing patients on August 1, 2014.
"Dr. Kraft has a great reputation at INTEGRIS," said Greg Martin INTEGRIS president. It's a major accomplishment to be named the chief resident, so obviously he is very bright, and a natural leader. He also has a way of working with his patients: he has a great bedside manner and patients respond very well to him. He will be an excellent addition to our medical staff."
Kraft was drawn to family medicine as a specialty because of the broad scope of practice and the opportunity to care for the entire family. Kraft considers it "rewarding" to help patients make positive changes in their lives. "I am always challenging myself to look at each patient individually and to make sure I have done everything possible to help my patient," he says.
Graduating summa cum laude from the University of Central Oklahoma with a bachelor's degree, Kraft was a recipient of the Dean's Scholarship at the University of Oklahoma College of Medicine. He completed his residency, becoming chief resident, with the Great Plains Family Medicine at INTEGRIS.
He and his wife Sheli have three children. He enjoys flying, hunting, running, scuba diving and mountain biking in his space time.