Derfelt to join Heartland Girl Scouts board
July 09, 2012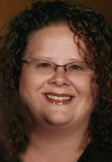 Community volunteer JoAnna Derfelt, pictured, has been named to the Board of Directors for Girl Scouts of the Missouri Heartland. She is an attorney with the Derfelt Law Office and assistant professor of political science at Missouri Southern State University-Joplin. She is a strong advocate for children. Her law office works with the guardian ad litem program and a mediation program for at-risk children in Cherokee County.
""We are honored to have a such a passionate advocate and role model for children on our Board of Directors,"" said interim CEO Anne Soots. ""JoAnna''s experience and skills will help us advance our mission of building girls of courage, confidence and character, who make the world a better place.""
Derfelt is looking forward to helping Girl Scouts take action and become more active in their communities. She joins an 18-member board as a member-at-large.
About Girl Scouts of the Missouri Heartland
Girl Scouts of the Missouri Heartland has a membership of approximately 17,000 girls and 6,000 adults across 68 counties in central and southern Missouri, southeast Kansas, and northeast Oklahoma. With the support of community partners, donors, and volunteers, the group mentors and supports girls as they develop crucial life skills. For more information on how to join, volunteer, reconnect or donate to Girl Scouts, call (877) 312-4764 or visit us here.