New law governs construction zones
August 28, 2006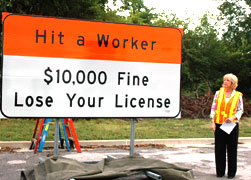 JOPLIN – On the day new Work Zone Safety legislation went into effect, Becky Baltz, District Engineer, MoDOT Southwest District (7), unveiled a new work zone sign at the Joplin District Office.
"The increased construction means increased work zones. New work zone legislation goes into effect today that will help make work zones safer for motorists and workers," said Baltz.
A new highway work zone law effective today comes with big penalties for reckless drivers. Injuring or killing a highway worker could cost $10,000, as well as a lost license for a year.
Since 2000, 214 MoDOT employees have been injured and seven have been killed in work zones. Two highway workers were killed earlier this month in work zones in St. Louis. District 7, encompassing the counties of Barry, Barton, Bates, Cedar, Dade, Jasper, Lawrence, McDonald, Newton, St. Clair, and Vernon, has had six Department of Transportation workers killed in work zones since 1945.
MoDOT is currently in its busiest-ever construction season – more than 1,000 active work zones in 2006 - as districts across the state strive to reach the Smoother, Safer, Sooner challenge, 2,200 miles of smooth road by the end of the year as mandated by Gov. Matt Blunt.
The southwest district signs will be located on I-44, near the .8 mile marker and on Hwy 71, near the Arkansas state line.
To find out where work zones are in your area or other work zone information, call 1-888- ASK MODOT or visit our website.
Editor's note: Our definition of "big penalties" would be a bit more stringent...$10,000 for a life?