Second CERT team graduates 9 members
July 01, 2004
The City of Joplin held a graduation reception at city hall for nine volunteers who had recently completed the Community Emergency Response Team (CERT) program. As CERT responders, each will be responsible for lending support to first responders (police and fire department personnel) during a major emergency situation or catastrophe in both the Joplin and Carthage areas. The CERT program is funded under a grant from the State Emergency Management Emergency Response Team Program.
"This is the second CERT team to graduate from the program," said Judy Johnson, director of Emergency Management for Joplin and Jasper County. "They are an asset to our community because they will be able to take a more active role in personal and public safety during a disaster or catastrophic situation."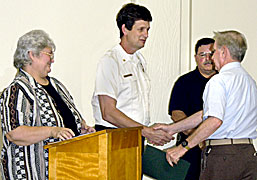 After having received his CERT diploma, at far right, Larry Meacham of Joplin accepts congratulations from Bob Morris, deputy fire chief. Meacham who now works part-time as a security guard at the Northpark Mall was a TV reporter when the Connor Hotel fell. Looking on are Judy Johnson, Jasper County director of emergency management and Capt. Dennis Carrier, an instructor in the course.
The graduates are Charlene and Jerry Campbell, Monica Dixon, Larry Meacham and Marilyn Taylor from Joplin; Donald Perry from Purcell; Ronald Rakes from Seneca; and Charles Virgin, Jr. from Webb City.
Catastrophic events can severely restrict and overwhelm response resources, communications, transportation and utilities. During the time that damaged roads and disrupted communications systems might cut off critically affected areas from outside assistance, CERT teams can provide critical services to victims, including providing necessary resources such as food and water, first aid and shelter.
The CERT program consisted of learning 8 basic self-help and mutual-aid emergency functions. Included in the latest training sessions, which culminated with a disaster drill, were emergency preparedness, fire suppression, utility control, disaster medical operations and light search and resuce. The focus included team organization and dealing with the aftermath of terrorism. Trained emergency personnel, including firefighters and emergency medical services personnel, taught the classes.
"CERT members have been trained to be self-reliant for a short time, assessing their environment as well as the needs of others in their immediate area, and providing the necessary assistance," said Johnson. " It is teaching them some basic skills that they can use to help victims in a crisis situation They truly are an asset to the community."
The CERT team concept was initiated locally following President Bush's volunteer initiative in the post 9/11 period, and was implemented following the disastrous May 4, 2003 tornado that struck neighboring cities in Southwest Missouri and Southeast Kansas. Currently, there are over 70 programs in the state, but not all of them offer the team concept.
Anyone interested in joining a third team should contact the Joplin and Jasper County Emergency Management office at (417) 623-5858.
To read about the first graduating class, click here.