FCC limits city's role in Cable One/Nexstar war
January 07, 2005
City of Joplin encourages resolution of cable programming disparity
The City of Joplin has received inquiries regarding its role in the recent disagreement between Cable One and Nexstar Broadcasting with respect to the carriage of KODE and KSN on the Cable One system. The City is limited in its authority of this situation as defined by the Federal Communications Commission. Federal regulations do not allow municipalities to govern programming or pricing issues of cable systems and similarly, the City does not have authority to require broadcast stations be included in cable transmissions.
Joplin governing council is concerned about this issue and due to this concern has made a standing offer to both companies to assist in this situation as a facilitator and/or provide a neutral environment in which to meet for discussions. The two parties have not accepted the City's offer at this time.
Cable One does have a permit to operate as a cable provider within the City. In granting a permit the City reviews signal quality, customer service and general operations of the cable company but does not have authority to require specific programming or channels. The Cable One permit does not exclude any other company from constructing a cable system in Joplin but allows Cable One to establish a transmission system to provide video programming or other programming service within the City. Cable One's permit was renewed in March 2004, and is effective for ten years.
The City finds this situation unfortunate, and hopes that this issue can be resolved to provide the citizens of Joplin a quality service from both companies.
end
---
EDITORIAL COMMENT:
---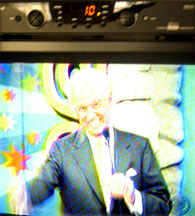 Cable One user, are you missing KODE and KSN-TV? If so, Cable One is offering to supply you with an antenna and AB switch which will allow you to switch between cable transmission and those channels. Although the intial supply of these items was exhausted, another 1,000 should be made available after 1 p.m. today. An additional 1,000 is expected to be available for distribution on Monday, Jan. 10.
It is interesting that while Cable One is telling its subscribers to contact Nexstar Broadcasting (KODE and KSN-TV) about their policy changes, Nexstar has been telling any viewers to switch from Cable One to the Dish Network, the local franchise curiously owned by one of their former weathermen. One would think that if this bothers anyone that he or she should contact Nexstar advertisers and suggest that they switch their business to KOAM-TV, the local channel still carried by Cable One that is not asking for money to be carried in Cable One's line-up. Money talks!