Snavely assumes Joplin human resources position
March 05, 2007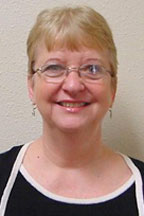 Reba Snavely, at left, who recently served as the associate vice president for administration for the division of finance and administration at Webester University in St. Louis, now is filling the position of human resources director in Joplin, according to an announcement by Mark Rohr, Joplin City Manager.
"I am pleased that Reba will be joining the city of Joplin," Rohr said. "She has a great deal of experience and will be a good addition to our management team."
As director she will administer the employment process, ensuring that selection procedures comply with appropriate regulations and guidelines, and will advise management staff of specific laws and guidelines in accordance with personnel policies. She also will assume the risk management functions for the city, including the review of insurance policies and monitoring of several budgets related to employee benefits and coverage. The department is currently pursuing a pay for performance plan and Snavely will be responsible for the design and implementation of this program.
Holding a Master of Science in political science/public administration from Eastern Kentucky University, Richmod, Snavely was director of human resource services at Berea College in Berea, KY and manager of classification and compensation in the department of human services and director of general services in the department of physical facilities at Kansas State University.
The position of human resources director became vacant upon the death of Ted Sandlin in November 2006. Tamra Schultz, human resources/insurance coordinator, served as interim director.