Roughton moves up to fire marshall
February 18, 2009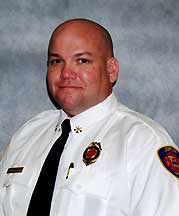 Andy Roughton, pictured at right, has been appointed to the position of fire marshal according to an announcement by Joplin Fire Chief Gary Trulson. Roughton, previously a captain in the fire department, has served the city of Joplin since June of 2001.
"Andy has been dedicated to the fire service industry, and has served in various roles to educate and inform the public about fire safety and risk reduction," said Trulson. "He is very motivated to make Joplin a safer community for all residents and visitors."
Following three years of service as a firefighter Roughton was promoted to driver/engineer in July 2004 and to captain in June of 2006. He has been very active in the department's emergency medical service operations assisting with training, quality assurance and resource management.
Currently a Missouri state certified fire investigator, inspector and instructor. Roughton is a paramedic and hazardous material (HazMat) technician and is completing his Associate of Arts in fire science at Crowder College.
As fire marshal, Roughton will be responsible for the fire department's Community Risk Reduction Program which is an "all hazards" approach to community safety efforts. Within this scope he will manage code development and enforcement, safety inspections, and public education.
"I look forward to working in this capacity," said Roughton. "With our broad risk/hazard reduction goals, I plan to work closely with other city departments to increase safety measures for both homes and businesses in the city to ensure a safe environment for our residents and business people."
The fire marshal position became vacant in January 2009 after the promotion of Tim Woodward to battalion chief.