Joplin introduces new logo/tagline
October 28, 2009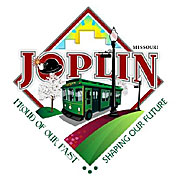 By Lynn Onstot, Joplin Public Information Officer
Proud of our Past…Shaping our Future" This is more than a catchy phrase in Joplin these days. This tagline in the new Joplin logo espouses an approach to local government. While many cities are caught up in the demands of delivering daily services (the" grass and trash" approach), Joplin is a thriving mix of a planned approach in determining and achieving the kind of city we want to be. We are "shaping our future", while at the same time improving the delivery of traditional city services.
The city of Joplin has introduced a new logo that captures this spirit, as well as portrays the recent introduction of the Sunshine Lamp Trolley.
The trolley was first introduced in August 2007 to provide a public transportation option for citizens. Since then, the city has developed two additional routes that correlate with the original route, providing a citywide service that all can use.
Joplin's transformation is being enabled by planning through a community-wide envisioning process, which produced a "Blueprint for the Future." This document outlines the Council-approved projects that forecast the town's future for the next 10 years. The goal is to create an environment where private sector investment can flourish. The envisioning process is just one step in an overall approach to managing local government developed by Joplin City Manager Mark Rohr entitled "DO IT!" "DO IT!" is an acronym for "Determine Objectives for an Improved Tomorrow."
With the original blueprint completed in 2007, city leaders met with the public this past summer to revisit this list, note the accomplishments and begin discussing possible additions for the revised blueprint. City staff will meet with the Joplin City Council in early 2010 to initiate the finalization of the blueprint.
As the city moves forward with this development, citizens can look forward to seeing the multi-colored diamond shaped city logo utilized in various ways. The city has also adopted a shorter version of the logo that can be used in one or two-color applications, such as daily correspondence, memos, and news releases. As supplies of the previous stationery diminishes, city staff will move to using this new logo that emphasizes the momentum of Joplin while applauding its rich history that has served as a strong building block for its growth.