Joplin's 137th is overshadowed by Census 2010
March 24, 2010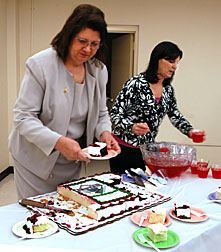 Joplin city clerk Barbara Hogelin serves cake and her assistant Barbara Goelhofer serves punch at Joplin's 137th birthday celebration.
City officials, community leaders and members of the Census 2010 Complete Count Committee joined the public to celebrate Joplin's 137th Birthday yesterday, March 23, 2010, at Joplin City Hall. Joplin was incorporated by the state of Missouri as a city on March 23, 1873.
Prior to the birthday celebration, a brief press conference was held to stress the importance of the Census 2010 to the citizens of Joplin.
"Many community programs and services are funded through the census count," said Mayor Gary Shaw. "We encourage everyone to fill out their forms because census officials estimated that for every person not counted, it can cost communities $1,300 in funding. And, as we all know, this is significant for the progress of Joplin, and most importantly, for the many services that are provided to our citizens."
Representatives from numerous community service organizations attended the event to provide information about the special assistance needs of Joplin's citizens. Joplin R-VIII School Superintendent, Dr. C.J. Huff, told the crowd that not only educational programs benefit from census counts but also programs that provide other support such as subsidizing student meals. Adolfo Castillo also spoke of his role bestowed upon him by Gov.Jay Nixon to insure that the Hispanic community participates in the census count.
Census data is also used for congressional apportionment, legislative and congressional redistricting, and determine funding and locations for housing, child-care centers, shopping centers, roads and more. These improvements can have a significant impact on the lives of everyone in the community.
For more information about the 2010 Census, visit here.