Brubaker becomes part of Joplin CVB staff
November 02, 2010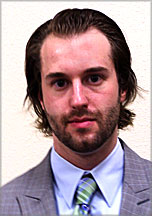 The Joplin Convention & Visitors Bureau (CVB) has announced the hiring of a director of sales. Lenny Brubaker, pictured, assumed the role last September.
Brubaker's previous experience includes sales manager for College Press Publishing where he was responsible for implementing new sales strategies and managing customer service relations. Prior to his position at College Press, he worked in retail services focusing on sales and merchandising management.
Having earned a Bachelor of Arts from the University of Missouri-Rolla, Brubaker currently is a member of the board of directors of the Spiva Center for the Arts and Discover Downtown Alliance. His volunteer work includes the Community Clinic of Joplin, the American Red Cross and various other agencies.
"Lenny will be a great asset to our team at the Convention & Visitors Bureau," said Director Tim Cox. "He possesses many organizational skills and knows the community well. He has served on numerous committees, providing assistance in promotion and marketing. He will do well in developing relationships with meeting planners throughout the four-state region to bring more people to Joplin."
The mission of the Convention & Visitors Bureau is to strengthen the economy of the Joplin area through its marketing efforts of the region as a preferred destination for meetings, conventions, sporting events and leisure travel.