Allied to hand out polycarts to Joplin customers
January 06, 2011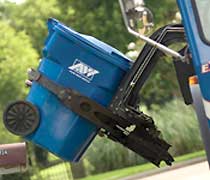 (Photo courtesy of Allied Waste Services)
After a new solid waste agreement reached between the Joplin City Council and Allied Waste Services, only one trip to the curb (or alley in some cases), should be needed with the new 96-gallon polycart each household will receive for their residential trash. Starting January 17, 2011, Allied's third-party contractor will deliver the polycarts along with instructions for their immediate use and a toll-free customer service telephone number for customers with questions. There will be no charge for use of the polycart but it remains the property of Allied and should remain with the property if the resident relocates. Additional polycarts will be issued for free on an "as needed" basis as determined by Allied.
Instead of the 96-gallon polycart, residents within the city limits of Joplin will have the option of requesting a smaller 65-gallon polycart by phoning (800) 431-1507 before January 17, 2011. Physically impaired customers (without assistance) automatically will be given a 65-gallon polycart and will continue to have their trash picked up at the door instead of the street/alley. If the resident is physically unable to place the trash in the polycart, he or she or a representative should phone the city at (417) 624-0820, ext. 501, to be placed on a special assistance list.
Residents are asked to place polycarts at the curb away from vehicles and mailboxes. Arrows on each cart will show the direction the cart should be placed so that the arm of an automated truck is able to grab it. A "front-load" truck will continue to be dispatched to pick up trash from alleys.
Bulky items, which should be placed alongside the polycart, will continue to be picked up at no additional charge by Allied. However, for this service the resident must phone customer service at (800) 431-1507 prior to trash day so that a "non-automated" truck will be dispatched.
If a polycart becomes damaged, stolen or missing, the resident must phone customer service in order to have uninterrupted service. Billing for trash service will continue to be listed on residents' Missouri-American Water Company bill. All residents who have been paying rent for their existing cart effective December 31, 2010 will receive a refund in 4-6 weeks. If the polycart is marked "American Disposal," it will be swapped out for a new one; carts marked "Allied Waste" will be swapped out only if needing repair.
All problems will be addressed after the service is in place. Automated trucks should be in service by the end of March.