Joplin names new parks and recreation director
January 26, 2011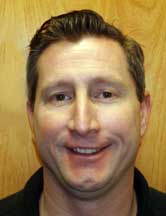 Christopher Cotten, pictured, has been selected as the director of Joplin Parks and Recreation, according to an announcement by Mark Rohr, city manager. His employment will begin March 1, 2011 at an annual salary of $80,028.
Cotten comes to Joplin from Harrisonville where since 2005 he served as the director of parks and recreation for the past five and a half years. His duties included management of various facilities including 480 acres of park land, a community center, rodeo arena, activity center, outdoor aquatic center, paintball field, skate park, trap and skeet range and amphitheater. In this role he also managed numerous sporting fields, a recreational fishing lake, and supervised sports leagues and programming. He was involved in the development of a nature trail and enhancing the city's existing trail system to ensure ADA accessibility. He also managed the ongoing development and sponsorship of the community's fireworks show for an audience of 10,000, and developed a music festival and other special events in partnership with various community groups. His work was noted in a citizens' satisfaction survey receiving an 87% rating for the parks' care and maintenance.
Prior to becoming parks and recreation director, Cotten served as director for Harrisville's new $10.5 million, 68,500 square foot community center. He managed the progress of the center's construction and developed the operational budget and plans. The center's operations remained his responsibility, and by 2010, through his containment efforts and hard work by his staff, the center had recovered 90% of its 2010 operational costs.
"I enjoyed Joplin during my visits, and look forward to providing fun and recreational opportunities to the citizens," Cotten said. "My family is excited about coming to Joplin and I am excited about contributing to the city and making a difference.I will miss the close working relationships I have made in Harrisonville, but look forward to making new ones in Joplin."
Cotten has worked in parks and recreation for over 15 years and has managed numerous programs involving various sports and interests. He developed community activities and sports programs for all ages as well as having taught fitness classes, weight-training and swimming.
Cotten holds a master's degree in educational administration with a sport and leisure management specialization from Texas State University and two Bachelor of Arts from Drury University in physical education and secondary education.
While at Drury, Cotten was named as an All-American in swimming and competed at the National Association of Intercollegiate Athletes (NAIA) level. He is a member of the National Parks and Recreation Association and the Missouri Parks and Recreation Association.
He and his wife have three sons.