Have you seen this man?
October 08, 2011
The Arkansas City, Kansas Police Department is asking for the assistance from the public to help apprehend Noble "Rick" Pendland III, 46 of Arkansas City who is wanted in connection with multiple child molestation cases. The District Court of Cowley County, Kansas has issued two warrants his arrest. The warrants total $200,000 in bond.
In June, 2011 the Arkansas City Police Department began investigating information that surfaced regarding possible child molestation allegations made against Pendland. The investigation revealed numerous children who have alleged to have been victimized by him.
The Arkansas City Police Department is unable to locate Pendland for questioning. The department believes that he fled Arkansas City on July 7th, 2011, to avoid prosecution for his alleged crimes against children. It is believed he may have travelled out of the area, possibly to another state.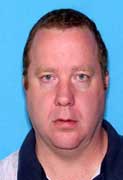 Pendland, pictured at left, was last seen driving a gray 2006 Toyota Tundra pickup truck with Kansas license plate 996CQD. He is described as 5'9", 250 pounds, with reddish brown hair and blue eyes.
Pendland has a background in social services, foster care, and education. He may attempt to find employment in these fields.
Anyone with information on the whereabouts of Pendland is urged to contact his or her local law enforcement agency or the Cowley County Crime Stoppers at (620) 442-7777 or (620) 221-7777. You also may make an anonymous tip by texting ACTIPS to 487411 followed by your tip in the body of the text. All tips made are 100% anonymous and could result in up to a $1,000.00 reward.