Heatherly named to Joplin post
September 26, 2013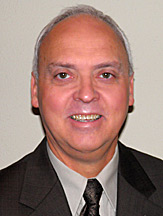 Nicholas (Nick) Heatherly, P.E., C.F.M., pictured, has been hired as the public works director for Joplin, according to an announcement by Joplin City Manager Mark Rohr. He will start on October 1, 2013, with an annual salary of $90,000.
Heatherly brings nearly 25 years of experience in public works to this position and is a graduate of the University of Missouri-Rolla, with a Bachelor of Science in Civil Engineering. In 1986 he began his public service career with the city of Springfield that lasted until 2010 when he retired after holding a variety of positions including, technical assistant to the director of public works, superintendent of general services, assistant director of public works and the director of building development services. After a short retirement he accepted the position of administrator for the city of Willard, Missouri and remained in that position until February of 2013.
Prior to serving in the public sector, Heatherly worked in southeast Missouri with a private consulting engineering firm that specialized in providing engineering services to several regional municipalities. He is a registered professional engineer in the state of Missouri and certified floodplain manager with the Association of State Floodplain Managers (ASFPM).
Heatherly and his wife Teresa have been married over 33-years and have raised three sons. He has been involved in a several community and professional organizations, including the Boy Scouts of America, the American Public Works Association, the Missouri Society of Professional Engineers, the Missouri Floodplain and Stormwater Managers Association, and the Southwest Missouri Code Officials organization. Nick is a veteran and was honorably discharged in 1978 after having served in the Unites States Navy as part of the SEABEES (Construction Battalions).
"Nick will be a strong addition to our team," Rohr said. "Sam [Anselm, Assistant City Manager] has done a great job serving as our interim director in keeping the projects moving forward. I am confident that Nick has the skills and experience to step in and keep the momentum going."
---
Editor's note: Heatherly fills the position vacated by David Hertzberg who was transferred to the position of community development block grant project manager in the wake of a shake-up in the Joplin Public Works Department. For more information go to this KOAM-TV website.