Randles retires, accepts position in Texas
May 31, 2014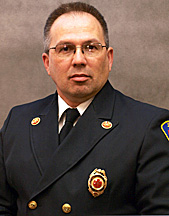 Interim City Manager Sam Anselm has announced the retirement of Joplin Fire Chief Mitch Randles, pictured, effective August 1, 2014. Following his retirement from Joplin, Randles has accepted a position to serve as the fire chief in Temple, Texas.
"I offer Mitch my heart-felt congratulations on this new chapter in his life, as it will be an exciting opportunity for him both personally and professionally," said Anselm. "He has served Joplin well, both within the department and in the community during his service here."
Randles has served as chief since October 2010, managing the department of 96 personnel with six fire stations. During his tenure in the position, he led the search and rescue effort following the May 22, 2011 disaster. He also directed the design and construction of three fire stations, two of which were destroyed by the disaster. He has nearly 30 years in the safety services, holding various positions prior to serving as chief, including assistant chief, fire marshal, fire captain; and driver/engineer, firefighter/paramedic and emergency medical services coordinator.
The city will begin the search process for the fire chief in upcoming weeks.