Anselm is selected as Joplin city manager
November 05, 2014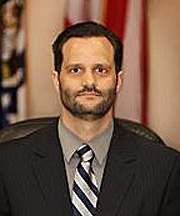 Samuel Anselm, pictured, has been selected as city manager for the city of Joplin, according to an announcement by Joplin Mayor Mike Seibert. Anselm has held the position of assistant city manager since March 2011, and most recently served as the interim city manager for Joplin since February of this year.
"Sam demonstrates strong leadership and communication skills, and knows how to get things done," Seibert said. "In Joplin's post-tornado era, it is evident of the work we have before us. We've heard from the citizens in various manners, including through CART (Citizens Advisory Recovery Team) and know the priorities our citizens would like to see in Joplin. Sam has been with us during this time, and not only watched this process, but has participated in citizen engagement to help residents through the various stages. Now in this new role, he will continue this work to complete the rebuilding of Joplin by implementing the projects that have been identified."
In the hiring search for a city manager, the Joplin City Council interviewed Anselm and a second candidate, Stephen Rasmussen of Jefferson City. Originally a pool of four candidates were selected; however, prior to the interview sessions, two candidates had removed themselves from the running. Randy Wetmore, city manager of Marshalltown, Iowa decided to remain in his current position upon receiving additional compensation and/or benefits. Last week Dean Kruithof from Bentonville, Arkansas notified the mayor that he had accepted the city manager position in Miami, Oklahoma, his high school alma mater.
Mayor Pro Tem Morris Glaze spoke of the unanimous decision that the council made regarding the position. "Sam has more than 15 years of experience in the public sector," he said. "He not only has worked in administrative roles, but has also managed several different city departments in his previous jobs. His knowledge of city operations, along with strong customer service skills, will truly be beneficial to the organization, as well as our citizens."
As assistant city manager with Joplin, Anselm has been responsible for many of the day to day operations, with a focus on human resources and customer service. He worked closely with AmeriCorps and other service agencies in coordinating the thousands of volunteers who arrived in Joplin to assist the community following May 22, 2011.
"It's been an honor serving the residents of this community for the past three years, and I'm excited about the opportunity to continue to serve in a different role," said Anselm. "I look forward to working with members of the city council and staff to carry out the programs that our residents deem important, because together I think we can make Joplin the best city in which to live, work and raise a family. But getting there will take everyone's involvement."
Prior to coming to Joplin, Anselm served as the assistant to the city manager in Ferguson, Missouri, starting there in April 2008. In his role at Ferguson, he coordinated the economic development effort for the city and provided oversight management of human resources, information technology and community relations. In addition, Anselm assisted the city manager on special projects, serving as acting city manager as needed.
Before moving to Ferguson, he worked as the Volunteer specialist in human resources at the city of St. Peter's, Missouri. In this job, Anselm was responsible for recruitment, training and supervision of 500 volunteers, as well as administering customer service programs and annual salary plans for St. Peter's. He began his work at St. Peter's in 1998 as an intern in the city administration offices, and joined the purchasing and finance department as purchasing specialist. In this position, he reviewed all capital expenditures to ensure adherence to the city's $2.5 million capital budget, and updated the city's purchasing policy manual, creating a database of 1,000 vendors.
Anselm holds a Master's in Public Policy Administration from the University of Missouri – St. Louis, and a Bachelor of Science in Public Administration from Northwest Missouri State University.
"With Sam's experience and his problem-solving skills, we are confident that he will be able meet the challenges that develop in City government," said Seibert. "Sam will lead the City to meet our vision for the future, but also lead us through the challenges that lie ahead."
Anselm will fill the position immediately with an annual salary of $155,000. He and his wife Jennifer have four children.